Malaika Arora on becoming single mother after divorce with Arbaaz Khan: 'Whole world is crashing on your head'
Malaika Arora spoke about her decision get a divorce and become a single mother to her son Arhaan Khan. Here's what she has said.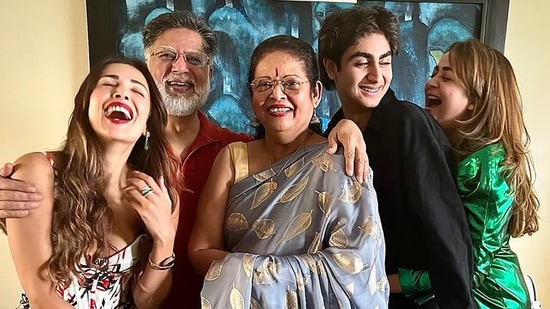 Updated on Mar 10, 2022 12:45 PM IST
Actor-television personality Malaika Arora recalled the time when she got divorced from her husband Arbaaz Khan. In a new interview, she said that at that time she felt like 'the whole world is crashing' but knew that she had to be responsible. Malaika added that at that point her son, Arhaan Khan, needed her 'more than ever'. Malaika also revealed that she felt 'scared, vulnerable, frightened' but had to take 'one day at a time'. (Also Read | Malaika Arora reveals parents were upset about her being trolled on social media: 'I told them to stop reading garbage')
Malaika Arora was married to actor Arbaaz Khan for 19 years. They got divorced in 2017. They are parents to Arhaan Khan, born on November 9, 2002. She made her relationship with actor Arjun Kapoor official in 2019 on his birthday.
In an interview with Pinkvilla, Malaika said, "When I took that decision or that step to be a single mother, I didn't (pause). At that point, you always feel that the whole world is crashing on your head and how you gonna manage I think that's a very normal human reaction. But having said that I also knew that it is something I have to take on. I have to be responsible. I have a son, he is growing up, he needs me more than ever. I have to be that right example. I have to be able to steer him in the right direction and at the same time let him make his own mistakes."
"Yes, I did feel scared, vulnerable, frightened, all of those emotions. But I also felt that I had to take one day at a time. I couldn't take giant leaps because that is just not possible. I had to see what every day would unfold for me. At that point, the only thinking about I needs to be, not if I am a single mother but I need to be a working single mother. For me, that was more important," she added. Responding about her 'superpower', she said it was clarity adding that it was 'very rarely am I shaken or very rarely I am not sure or standing on shaky ground'.
Recently in an interview Hindustan Times, Malaika was praised by Arjun. He had said, "We stood by each other through this relationship, facing speculation, facing brickbats, facing chatter, unnecessary at times, because of social media toxicity. It was hell for us for many days. She had to face so much because of the fact that we came out in the open, but I admire her for giving me and our relationship so much dignity. Standing by Malaika never felt like it's something extraordinary. It felt just the right thing, the most natural thing to do."
Malaika is often seen as a judge on reality shows. She was last seen in the reality show India's Best Dancer Season 2
Close Story
Personalise your news feed. Follow trending topics