Navya Nanda recalls friends in UK would fight with their mothers: I would never even dare to speak to my mom like that
Nov 27, 2022 05:22 PM IST
Navya Naveli Nanda spoke about her school days in England, and how some of her friends would have 'full-on fights' with their mothers on her podcast What The Hell Navya. She recalled how she, on the other hand, would not even get into an argument with her mom Shweta Bachchan.
Navya Naveli Nanda recalled her school days, when she was in a UK boarding school, in the latest episode of her podcast What The Hell Navya. She told her mother Shweta Bachchan that she could never speak to her the way some of her school friends spoke to their mothers, and said that they had 'full-on fights' with their moms. Navya's grandmother Jaya Bachchan, too, chimed in, and said, "But that's our culture." Also read: Navya Nanda reveals how 'mamu' Abhishek Bachchan diffuses tension at home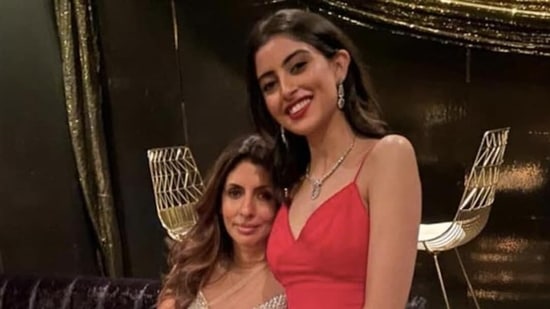 Navya was joined by her mother Shweta and grandmother Jaya for the finale episode of her podcast What The Hell Navya, which dropped on Saturday. During the episode, Navya Naveli Nanda said, "I remember when I was in school, obviously the cultures are very different, we were in boarding school in England, I used to see the way some of my friends used to speak to their moms, and would be like 'haw'. Like 'how can you say that?' I was like 'if I ever said this to my mom…' Like I would never, I would never dare get into a full argument."
She further said, "I still don't think I would (get into an argument) out of respect more than fear. I wouldn't back answer to you (Shweta) about certain things… Sometimes I saw some of my friends get into full-on fights and I was like 'how can you say this to your mom?' I would never even dare to speak to my mom like that." In response to Navya's statement, Jaya Bachchan said, "But that's our culture… I don't think you should use the word dare… you wouldn't do it because you've been brought up to respect your parents or your guardians."
In the same episode, Navya had also revealed what her 'mamu (uncle)' Abhishek Bachchan 'always played some house tech music', when he saw 'tensions rising' at home. Shweta had also spoken about how she 'loved it' when her mother and daughter praised her on the podcast, calling it her 'favourite part'.
Jaya and Shweta had been joining Navya on her podcast in recent months, where they had been sharing details of their personal lives and their relationships with each other. Navya is the granddaughter of Amitabh Bachchan and Jaya Bachchan, and daughter of Shweta Bachchan and Nikhil Nanda. Navya is an entrepreneur, who co-founded Aara Health last year.