Step inside Justin Bieber's tour bus with sauna, bedroom, sneaker closet; it's bigger than the average home
Updated on Jul 19, 2021 07:25 AM IST
Step inside Justin Bieber's sprawling tour bus, with a large bedroom, a sauna, and a sneaker closet. Check it out here.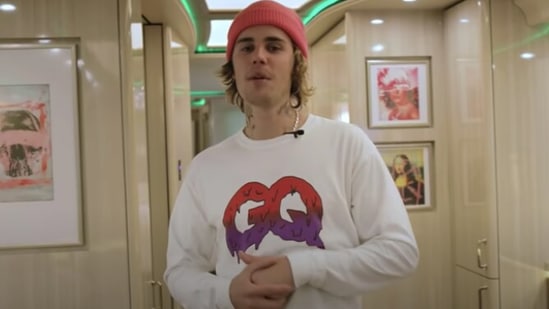 Pop star Justin Bieber invited his fans inside his tour bus, in a video feature shared online in April. The sprawling space is big enough to live in, and has a large bedroom, a separate closet for his shoes, and a shower with a steam feature, which Bieber really likes.
The video was shared by GQ, and began with Justin Bieber inviting fans inside his 'lair'. Right next to the entrance was Bieber's work stations, where he checks his emails. He also showed off the art on his walls, called 'Cash Only'. A portrait of his wife, Hailey Bieber, was also kept on a desk.
"And back here is my bedroom," Bieber said, as he walked into the large space. "This is where I will sleep when I'm on the road, when I travel." He said that the bedroom is where he spends most of his time when he's travelling, and that he enjoys relaxing and watching movies on his bed.
He then took fans inside the bathroom and sauna area at the back of the bus. He also recalled going on a road trip on the bus, from Canada to Los Angeles. "One thing I do love about this bus are these LED lights," he said, showing off the lights. He revealed that his 'favourite part of the bus' is a lounging area with a fold-out couch. "The cool thing about this bus is that it's with me on the tour; the band comes on here, the dancers and the crew; it's a good space," he said.
Also read: Justin Bieber asks TikToker Riyaz Aly about India's Covid situation during Instagram live: 'Are people wearing masks over there?'
Justin Bieber became a teen pop sensation after finding overnight success with his hit single Baby. Bieber is one of the best-selling music artists of all time, with estimated sales of over 150 million records worldwide.
Personalise your news feed. Follow trending topics