New Doctor Strange in the Multiverse of Madness leak explains Iron Man's exact role in film
Published on Mar 10, 2022 05:05 PM IST
A new leak has detailed what role Iron Man will play in Marvel's upcoming film Doctor Strange in the Multiverse of Madness. There are rumours Tom Cruise is playing that role.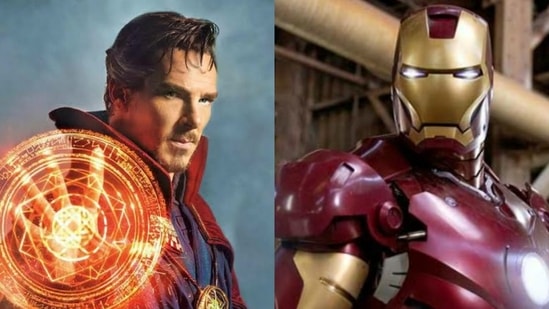 A new 'leak' from Marvel's upcoming film Doctor Strange in the Multiverse of Madness not just lends weight to claims that Iron Man is appearing in the film, but goes on to explain the character's exact role in it. Ever since Doctor Strange 2 began production, there have been rumours about a version of Iron Man appearing in it. Some unconfirmed set leaks have hinted at Tom Cruise playing the role. (Also read: Doctor Strange 2 toy set hints at Spider-Man, Iron Man being present in the film)
Doctor Strange in the Multiverse of Madness takes off from after Spider-Man: No Way Home and deals with the concept of multiverse and variants. Given this, fans are hoping that Iron Man--who died in Avengers: Endgame in the MCU will return, even if played by a different actor.
A new leak posted by a film insider claims that Iron Man will indeed appear in the film, albeit briefly. A tweet by Moth Culture, a pop culture insider, claims that an Iron Man variant wearing a gold armour will appear in the film but only for a few seconds. The leak goes on to add that this Iron Man will not take place in the battle with Wanda (Elizabeth Olsen) or the Illuminati Trial, both sequences that have been hinted at in the last trailer of the film.
The Illuminati that the leak refers to is a secret society in the Marvel Comics, which includes Iron Man as one of its members, alongside Mr Fantastic and Professor Charles Xavier. Xavier is already confirmed to be appearing in Doctor Strange 2 with Patrick Stewart reprising his role from previous X-Men films.
Previously, a toy set linked to the film had apparently revealed that not just Iron Man but Spider-Man is also appearing in the film. The LEGO set number 76218 - titled The Sanctum Sanctorum - shows miniature figures of three different versions of Doctor Strange fighting a giant monster, along with both Iron Man and Spider-Man. The said monster has been seen in the latest trailer of the film.
Other leaks and reports claim that Ryan Reynolds and Tobey Maguire will reprise their roles of Deadpool and Spider-Man in the film. Both these actors have also denied these reports. Doctor Strange in the Multiverse of Madness stars Benedict Cumberbatch in the lead and is part of Phase 4 of MCU. The Sam Raimi film has been described as Marvel's first horror film and will release in theatres on May 6.
Personalise your news feed. Follow trending topics