Inside BTS' Jin's Argentina trip with food, video games ahead of Coldplay concert, turning water bottle into mic. Watch
Jan 08, 2023 02:17 PM IST
BTS Jin's Argentina trip in October featured video games ahead of a concert with Coldplay, and feasting on meals. Watch video.
Jin, the eldest member of BTS, joined Coldplay in Argentina in October during their concert, Music of the Spheres World Tour, to sing his solo The Astronaut, live for the first time. Now taking to its YouTube channel on Sunday, BangtanTV posted a video giving the BTS ARMY a glimpse inside Jin's travel diary. It also showed what Jin did after landing in Buenos Aires ahead of his concert. (Also Read | BTS' Jin leaves fans 'crying' during his live concert with Coldplay, says 'I love you'; Chris Martin hugs, kisses him)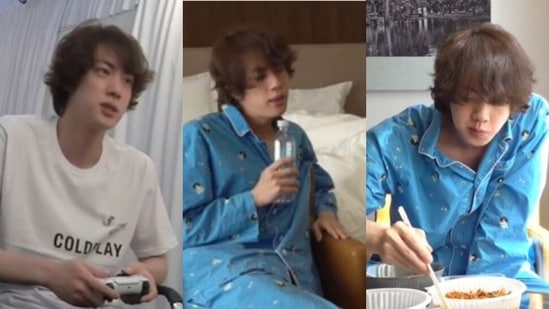 The video started with Jin at his seat inside the flight recording message for his fans, "Going to Argentina, connecting from the US. I'm arriving in five hours. So, the total air time is about 34-35 hours. Because I wanted to put on the best performance I could so this will be the first reveal. But it's tough, hard."
He also added, "Thinking about spending the same amount of time returning home. I'm spending about three days just moving around. I respect everyone who does tours. I've done tours myself. From Korea to South America it is really the opposite side of the globe. I always wanted to visit South America. Coldplay gave me a really good opportunity to meet you, I'm really happy about that." Jin next gave a glimpse of his meal which comprised steak, bread, salad, ice cream, fruits, cheese and crackers, and chocolate.
The video next showed Jin in the waiting room playing games, trying to win but losing every time and getting angry. Jin was playing games four hours ahead of Coldplay's concert. The singer was seen trying different strategies but was unable to win getting angry and then laughing.
But Jin was able to win at last and did a happy dance on his chair. He said, "Wow, I finally cleared it. I didn't know I will clear this game here. In five hours." Jin was next seen dancing at the Coldplay concert, in the audience, as he sang along with the band. He also crooned My Universe with Coldplay.
On the third day, Jin was seen having his meal in his hotel room as he listened to Astronaut. The singer also cleaned the table after finishing his food. Jin also practised the song as he turned his water bottle into a mic. He also rehearsed the steps that he would perform on the stage with Coldplay.
The video showed him playing video games as he finished rehearsing. The singer challenged himself that he won't apply lip balm unless he won. The video ended with Jin winning the game and celebrating by applying lip balm. Jin's performance with Coldplay was his last ahead of joining the South Korean military services in December last year.