Bigg Boss Marathi 4 finale: Akshay Kelkar wins trophy, receives
₹

15 lakh, fans want him in Bigg Boss 17

Jan 09, 2023 10:34 AM IST
Bigg Boss Marathi 4 winner is Akshay Kelkar. Apurva Nemlekar, Kiran Mane, Amruta Dhongade and Rakhi Sawant bagged second, third, fourth and fifth positions respectively.
Akshay Kelkar has won the Bigg Boss Marathi 4. Apurva Nemlekar bagged the second position, whereas Kiran Mane, Amruta Dhongade and Rakhi Sawant secured third, fourth and fifth positions respectively. The finale took place on Sunday night with Rakhi, Kiran, Amruta, Apurva and Akshay competing for the trophy. (Also read: Bigg Boss Marathi 4: Rakhi Sawant enters as a challenger, calls herself the 'bayko' of Bigg Boss. Watch)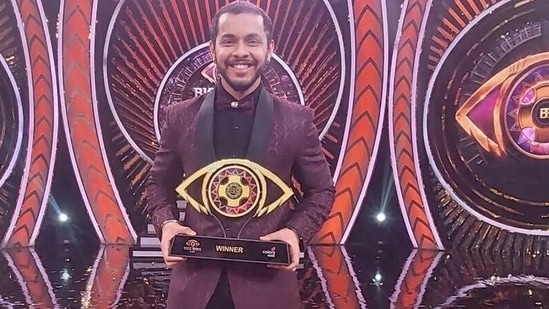 Apart from winning the trophy, Akshay also received ₹15,55,000, a gold bracelet and 5 lakhs cheque. The fourth edition of Marathi Bigg Boss was hosted by actor Mahesh Manjrekar. It was premiered on October 2, 2022 on Colors Marathi and Voot. There were16 contestants and three wildcard contestants. Akshay also won Finolex Pipes captain of the season award on Grand Finale. The theme and concept of this season was 'All is well' which meant that "hope" that everything will be fine.
The official Instagram page of Voot shared the winner of Bigg Boss Marathi season 4 and wrote, "Congratulations @akshaykelkar (smiling face with red heart eyes emoji) on winning the 4th season of Bigg Boss Marathi." The illustration contained Akshay's picture with winner written on it. Reacting to the news, one person commented, "He wore jacket similar to #SidharthShukla (red heart emojis)." Another person wrote, "He is Colors face but he really played well (clapping emojis)." Sidharth was the winner of Bigg Boss 13. He defeated Asim Riaz.
Other person commented, "Congratulations bro, hope you will come in Bigg Boss 17, Hindi bigg boss." "Only Akshay Kekar (fire emoji)", added one. Many people dropped heart emojis. Contestants like Aroh Welankar, Snehalata Vasaikar, Trishul Marathe, Samruddhi Jadhav, Yogesh Jadhav, Amruta Deshmukh, Rohit Shinde, Ruchira Jadhav, Vikas Sawant, Tejaswini Lonari among others were also part of Bigg Boss Marathi 4. Rakhi Sawant entered the show as a challenger.
Akshay rose to fame with Bhakharwadi (2019) which premiered on Sony Sab, Don Cutting 2 (2021), Marathi movie Takatak 2, and Nima Denzongpa. Nima Denzongpa also starred Surabhi Das, Sonakshi Batra among others. Akshay started his career with Marathi TV show Be Dune Daha, where he essayed the character of Kabir.