Lock Upp: Sara Khan says Ali Mercchant cheated on her 'multiple times', argues with him about joining the show
Published on Mar 15, 2022 06:57 PM IST
Ali Mercchant and Sara Khan, who tied the knot in Bigg Boss season 4 in 2010, are sharing the screen space after 12 years in Lock Upp.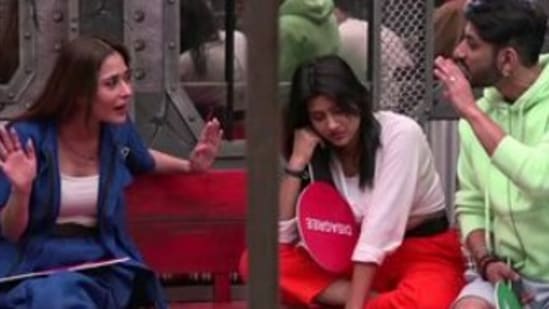 Sara Khan and Ali Merchant were seen indulging in a heated argument on Lock Upp, a day after the latter's entry as a wildcard contestant. Ali and Sara, who tied the knot in Bigg Boss season 4 in 2010, are seen together after 12 years. Sara was shown to be disappointed after Ali entered the show and was heard telling him to not talk about their past. However, things appeared to get more complicated as they screamed at each other while their fellow contestants watched them in silence. Also Read| Lock Upp: Sara Khan asks ex-husband Ali Mercchant to not talk about their past on the show: '12 saal ho gaye…'
A new promo posted by Alt Balaji showed the former couple starting a discussion that soon turned into an argument. Sara slammed Ali for joining Lock Upp despite knowing that she was there, while Ali asked her not to think too highly of herself saying that she did not play any part in his decision to join the show.
Sara said, "I am just respecting you a lot here and I don't wanna disrespect you, but that doesn't mean you can just say whatever you want to say." Ali replied, "Mai kya galat bol raha hu (What am I saying)?" Sara added, "I am very easy. Aapko easy lena chahiye kyunki aapne ye decision hi liya itna bada yaha aane ka knowing that I am here (I am very easy and you should take that into account since you took this decision despite knowing I am here)."
At this point, an agitated Ali said, "Hum dono apne apne balbootein se yaha aaye hain. Apne aapko itna mat banao. Kyunki meri aadat nahi hai kisi ko girane ki (Both of us have gotten here on our own capabilities. Don't give yourself so much importance. I don't have the habit of pulling other people down." As Sara continued blaming him for joining the show, he said, "Listen I just don't wanna talk to you. Meri marzi. Mar raha tha aise show mein aane ke liye. Thik hai na (It's my wish. I was dying to get to a show like this)."
Instagram users sympathised with Sara, with one commenting that Ali has only been brought to the show because of her. Another commented, "Ali ko konsa show khud k balbute par mila hai nonsense jaha jaha sara waha ali (Ali didn't get the show on his merit, he gets to go wherever Sara goes)." A third one argued that Sara also accepted the offer to be on the show despite knowing that Ali also might get invited.
The argument comes after Sara and Ali were seen discussing his infidelity in separate chats with their fellow inmates. Ali confessed to cheating on Sara in a conversation with Payal Rohatgi, while Sara opened up about the episode while talking to Kaaranvir Bohra and Shivam Sharma.
Sara said, "He was the first guy in my life. I fell for him and then we started dating. At one point of time, we had a lot of differences. I was cheated on a lot of times. I used to forgive, forget and get back. At one point, I decided I am gonna move ahead. When you fall for someone at a young age, I was almost 17, then it gets difficult to get out."
Sara also explained why she married Ali while inside the Bigg Boss house. She said, "Then I went to Bigg Boss, I was living myself. He came there without my knowledge, and he made sure that I am looking like a fool outside. I said 'what should I do,' he said 'will you marry me in this house, everything is gonna be fine.' I thought if that's what it takes then let's do it. I was very stupid. We came out of the house and again he was cheating on me. The wedding was not legal, we broke it. He cheated on me with Saisha (Shinde)'s friend, and many many more. But he never thinks let's stop. Had I been in his position, I wouldn't have come here knowing I am there."
When Kaaranvir said that Ali is wanting to make a 'comeback,' Sara said, "He can do that but not on my shoulder. It's been 12 years and everywhere this controversy comes up. I don't want him to crawl on my back and come in front of me like he did today."
Lock Upp: Badass Jail Atyaachaari Khel, streams on Alt Balaji and MX Player all seven days with Kangana Ranaut's Judgement Day episodes streaming on weekends at 10.30 pm.
Personalise your news feed. Follow trending topics