Richa Chadha calls Piers Morgan 'ubla aloo' as he storms off stage after being called out for 'bullying' Meghan Markle
Richa Chadha has reacted to UK television news anchor Piers Morgan walking off the sets of Good Morning Britain after he was confronted about his remarks on Meghan Markle.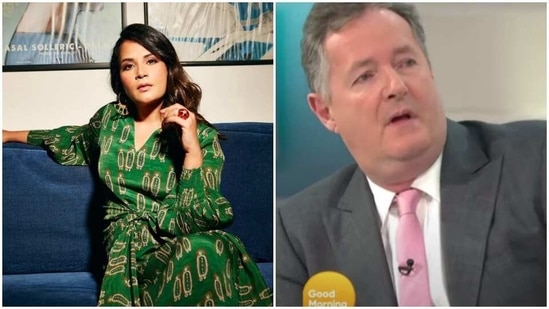 Published on Mar 10, 2021 02:31 PM IST
UK television news anchor Piers Morgan earned a lot of flak online on Tuesday when he stormed off stage on his show, Good Morning America. Piers was upset when accused by co-host Alex Beresford of repeatedly attacking Meghan Markle and Prince Harry.
A fuming Piers did not accept Alex's comments, saying "Ok, I'm done with this," as he got up and walked off stage. "Sorry. No. Sorry. You can trash me mate, but not on my own show," he added. The clip from the show has now gone viral and several people, including Richa Chadha have reacted to it.
Writing in Hindi, Richa tweeted, "Don't know why but his face reminds me of a boiled, peeled potato". Richa's followers reacted to the tweet with laughter emojis.
On Tuesday, Piers reportedly resigned from the show. "Following discussions with ITV, Piers Morgan has decided now is the time to leave Good Morning Britain," the network said in a statement. "ITV has accepted this decision and has nothing further to add." The decision came after the channel received close to 40,000 complaints against Piers for his comments against Meghan.
After Meghan and Harry's explosive interview with Oprah Winfrey, Piers tweeted on Monday that he doesn't "believe that anyone at the Palace would have refused to help her if she told them she felt suicidal". He was referring to Meghan opening up about experiencing a mental health crisis during her time as a senior member of the royal family. He added that the interview was a "disgraceful betrayal of the Queen and the Royal Family".
Also read: Meghan Markle-Prince Harry interview gets Amul creative makeover, see 'Royal Soap Oprah'
Alex told Piers on the show, "I understand that you don't like Meghan Markle. You've made that so clear a number of times on this program. I understand you've got a personal relationship with Meghan Markle, or had one, and she cut you off."
"She's entitled to cut you off if she wants to. Has she said anything about you since she cut you off? I don't think she has but yet you continue to trash her," he added.
As Piers stormed off, Alex exclaimed that it was 'absolutely diabolical behaviour'.
Topics
Close Story