Mind the Malhotras Season 2 trailer: Mini Mathur, Cyrus Sahukar return with more confusion and chaos. Watch
Aug 10, 2022 11:37 AM IST
Mind the Malhotras season 2 trailer: Mini Mathur and Cyrus Sahukar return with more confusion in the new season. Several new characters will also be seen in the web series.
The trailer of the second season of Mind the Malhotras was released by Prime Video on Wednesday. Taking to its YouTube channel, the streaming platform unveiled the over two-minute-long trailer in which the Malhotras returned with more confusion and chaos in their lives. The comedy-drama stars Mini Mathur, Cyrus Sahukar, Sushmita Mukherjee, Anandita Pagnis, Nikki Sharma, Jason D'souza, Rahul Verma, Denzil Smith, Dalip Tahil and Samir Kochhar among others. (Also Read | Mind the Malhotras review)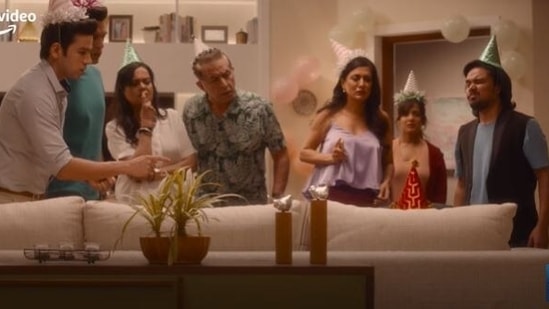 In the trailer, a new character is introduced who turns out to be Shefali Malhotra's (Mini) ex-boyfriend Rishabh Jain (Samir). Her husband Rishabh Malhotra (Cyrus) goes to Dr Gulfam (their therapist) behind his wife's back and shares this with him. On the other hand, Cyrus' mother (Sushmita) has a new boyfriend (Dalip) and this is something Mini shares with the doctor as she visits him alone.
Cyrus' character also meets a single woman Maria Goretti (Maria). Amid the chaos, Cyrus works on a merger that will make him a millionaire. He also said in the trailer that he wanted his three children – Jia, Dia and Yohan – to go faraway from him. Later, he added that he wanted them to go to the US for higher studies.
Produced by Applause Entertainment in association with Madiba Entertainment, the series is helmed by Sahil Sangha and written by Sahil Sangha and Karan Sharma. The show is an Indian adaptation of the Israeli show La Famiglia distributed by Armoza formats. Mind the Malhotras season 2 will premiere in India and across 240 countries and territories worldwide on August 12.
In a statement, Mini said, "We're finally back, and how! Playing Shefali Malhotra has given me enormous love, appreciation, and admiration from the audience. I'm super-excited to get into the skin of my character again, give her some more shades and grow as an actor. I hope that Rishabh and Shefali's not-so-perfect life tugs at the heartstrings of viewers just like in the previous season. Without divulging more, I can safely say that Mind the Malhotras season 2 will be messier, crazier, funnier, and a lot more relatable."
Cyrus said, "The Malhotras have returned to spice up life once again. As Rishabh and Shefali keep fighting, viewers stand to win with a double dose of fun, entertainment, and masti (fun). Season 1 was amazing, and we are touched by the acknowledgement the show has received. While I'm excited about season 2, I'm also a little nervous and hope that viewers continue showering their love on us like before."
The maiden season gave viewers a peep into Rishabh (Cyrus) and Shefali's (Mini) midlife marital issues, which will continue in season 2 with more drama, fun and entertainment quotient as they prioritise individual professional goals. Due to marital and family tensions, the couple seeks therapy to strike the right balance.