Mira Rajput reacts as Shahid Kapoor gifts her 'fake flowers', calls him 'cheap'. Watch
Feb 06, 2023 02:31 PM IST
Shahid Kapoor shared a video with Ishaan Khatter and Mira Rajput. He sent a box of 'fake gifts' for them. Mira and Ishaan unboxed their parcels, and were quite disheartened.
Shahid Kapoor took to Instagram and shared a video featuring wife Mira Rajput and actor-brother Ishaan Khatter on Monday. He sent big boxes filled with gifts for the two. However, Mira and Ishaan were left disappointed after unboxing their parcels. Shahid sent 'fake flowers' to Mira, while Ishaan received 'artificial cookies'. Mira called her husband's act 'cheap' and Ishaan said he's having 'trust issues' with his brother. Many fans reacted to Shahid's promotional video for his upcoming series Farzi. (Also read: Shahid Kapoor shows off his massive helmet collection, calls them 'my ladies'; fans want to know Mira Rajput's reaction)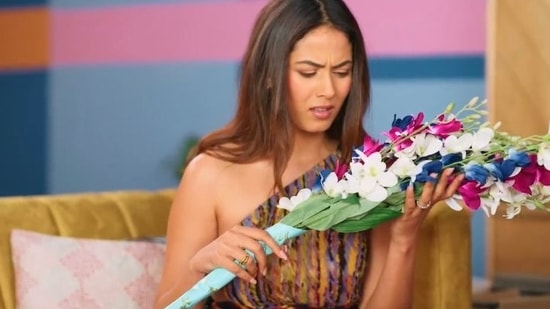 In the beginning the video, Mira said, "Hi guys! I am Mira" and Ishaan, said, "And I'm Ishaan." Mira was then heard saying, "So Shahid's been really sweet and sent us a whole bunch of gifts. So many gifts from such a busy schedule." Ishaan said in happiness, "The sweetest brother." Mira then said, "Oh flowers," as she held them with a smile on her face. Her brother-in-law said to her, "Orchids, your favourite!" She then replied, "I love them!" She brought the flowers closer to her and smelt them. Ishaan then asked, "Kya hua (What happened)?" She then asked him, "Are they fake?" He said, "Plastic!!" She then said, "How cheap!" and threw away the bouquet of flowers. Ishaan laughed, and said, "Plastic flowers. He made you a fool. Well at least they will have a longer shelf life."
Mira asked Ishaan, "What did he get you?" Ishaan picked up one of two small gift boxes and said, "Which one should I open?" He shouted, "Choco-chip cookies" and ate them. He had a weird reaction on his face. Mira asked him, "Fake?" He said, "Dhoka (Betrayal)." She consoled him, "It's okay." He spit out the cookies, and said, "Trust issues, is everything fake?" Mira showed her engagement ring, and asked, "Ye bhi nakli hai kya (Is it also fake)? The symbol of our love?" The two then shouted, "Shahid… bhai (brother)."
Shahid said, "Hi guys, why are you shouting?" An angry Mira said, "Just come here! What's with all these fake gifts?" He said, "Fake gifts? Oh fake! guys it's fake... I have nothing to do with this. This is Sunny." Mira and Ishaan asked him 'Who is Sunny?" Shahid said, "Well my new show, where I play Sunny! Farzi!"
Sharing the video on Instagram, Shahid wrote, "Farzi scenes with@ishaankhatter @mira.kapoor." He used 'Farzi on Prime' as the hashtag. Reacting to the post, one of Shahid's fans commented, "Bhai (brother) we are very excited for your show." Another fan wrote, "Arey Shahid aap bohot funny ho aur Ishaan toh mashallah (Shahid you are very funny and Ishaan is amazing)." Other fan commented, "Make some noise for Farzi."
Shahid will be next seen in web series, Farzi. It will stream from February 10 on Prime Video.