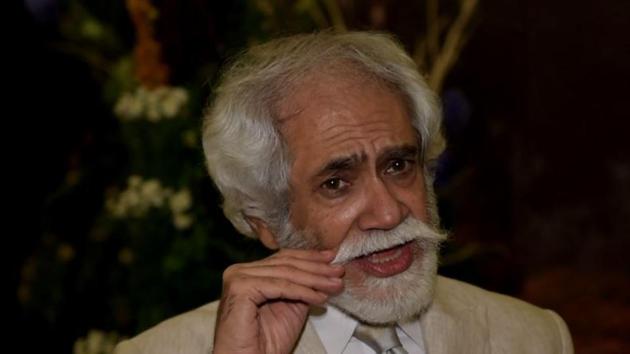 ICW 2018: Sunil Sethi, the silver haired tycoon who the fashion industry trusts
Sunil Sethi, the president of the Fashion Design Council of India tells us why people trust him, and the secret behind his trademark silver-white moustache and beard.
UPDATED ON AUG 01, 2018 10:38 AM IST
Sunil Sethi, president of the Fashion Design Council of India (FDCI) is very hands on, something which was made very clear once again during the India Couture Week, which wrapped up on Sunday, in Delhi. From making sure that the guests are comfortable right before the fashion show to constantly running behind the scenes making sure everything is in place, Sethi would be a perfect candidate for a Fitbit.
You can always recognise Sethi from his trademark silvery-white moustache and beard, but since when has he been keeping it?
"I started keeping a moustache and beard from my college days, in the 70s. I shaved it off once or twice, but what happens is that a man acquired a certain trademark, without which he is incomplete. So people have come and gone, trends have come and gone but my moustache and beard has always stayed like this. Sometimes it's Ranveer Singh who keeps a stylish moustache, at other instances the beard comes back in fashion, and cricketers, anchors and others start following various trends. But this has been consistent with me," reveals Sethi.
He says that his hair is actually black, but he applied a 'platinum colour' to it. "People colour their hair black, but I have done the opposite and coloured it white," says Sethi. However, one can't say for sure whether he's kidding around or serious.
And is Sunil Sethi the man who the fashion industry both fears and respects?
"I would say that he is the man who everyone trusts. I provide a platform and those who get on the platform, the sky is the limit for them, and they will always respect me," explains Sethi.
And as far as the fear is concerned, Sethi says, "I am a stickler; I give a lot of attention to detail. Hence, there is a certain expectation I keep from my staff, and when that happens a bit of fear does seep in. My team consists of 7-8 people and this time they did their job so well that I didn't have to do more work."
India Couture Week, presented by Hindustan Times and Sunil Sethi Design Alliance, will be on from July 25 to July 29, in Delhi.
Follow @htlifeandstyle for more
Close