Jadon Sancho out of FIFA U-17 World Cup but England not downbeat against Japan
Updated on Oct 16, 2017 09:46 PM IST
If England are worth 20 billion, mine is 1 billion but football is not about reputations, says Japan coach Moriyama ahead of pre-quarterfinal. England will be without star player Jadon Sancho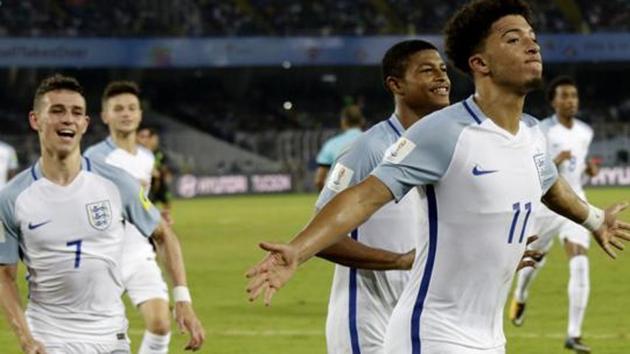 Jadon Sancho is returning to join Borussia Dortmund, said England coach Steve Cooper a day before Tuesday's pre-quarter final against Japan here. After Brazil's Vinicius Jr wasn't allowed to travel, the departure of this versatile attacking midfielder is another example of how helpless countries can be against club power.
"Borussia Dortmund requested that he be released and he is headed back to Germany. It's a disappointment for him and for the tournament because people enjoyed seeing Jadon play. I can only imagine that Dortmund wanted him back because they want him in the first team at the weekend (against Eintracht Frankfurt) because I can't think of any other reason to take a player away from the World Cup," said Cooper.
READ | FIFA U-17 World Cup: Jadon Sancho trains with England squad, availability unclear
Every time Cooper has interacted with the media since reaching Mumbai, Sancho has cropped up. And Cooper's answers were a lesson in sangfroid. On Monday he came closest to making his feelings obvious about missing the player whose three goals and two assists helped England top group F.
But England aren't looking back, said Cooper. "We will always be about the team. We have 20 players now who are capable of playing for England and we can't wait to get back at this excellent stadium."
READ | FIFA U-17 World Cup: England star Jadon Sancho to play only in group stages
Most coaches would say that but Cooper's already used 20 players in three games without there being a perceptible drop in intensity or ability barring a spell in the second half against Mexico.
Japan coach Yoshiro Moriyama explained why. "Many of them play in Premier League teams or in Germany and if there were to be a market value to the teams, England would be worth 20 billion and my team 1 billion," he said. "But football is not played like that."
READ | FIFA U-17 World Cup: Jadon Sancho adds to England's attacking options
Japan began with Keito Nakamura notching up a hattrick against Honduras but lost to France before Moriyama's desire to test his bench helped New Caledonia make history. "We will have to be practical. Playing a strong team also gives us an opportunity to improve on our own on the pitch," said skipper Shimpei Fukuoka.
For the fourth time, England will play a team they haven't met before at this level. For the first time though it could go to penalties and, after saying he could take two weeks to answer why tie-breakers and England make strange bedfellows, Cooper said they are trying to change the mindset and see shootouts as an opportunity rather than a threat.
Personalise your news feed. Follow trending topics