Dry skin, listless hair, razor burns: Jojoba Oil is your wonder cure for all skin problems
Updated on Sep 26, 2017 02:57 PM IST
Jojoba oil contains essential vitamins for the skin such as Vitamin B, E and key minerals such as zinc, copper.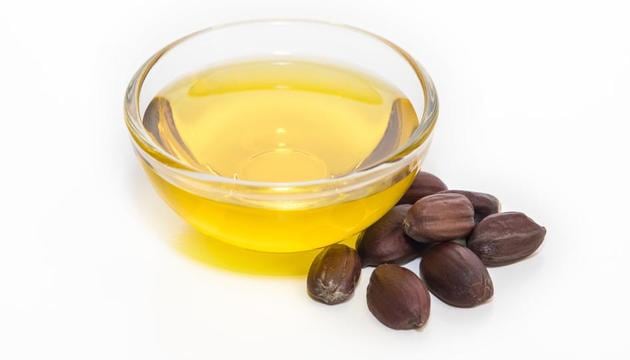 The popularity of jojoba oil for skin and hair has grown over the past few years. It is an oily liquid produced by the Simmondsia chinensis, or commonly known as the jojoba plant. The plant has its origins dating back to the Native Americans, who used it to treat various ailments. Jojoba oil is actually a liquid wax that forms around the seeds of the plant.
The human skin produces a wax like substance called sebum that helps protect and heal the skin from external toxins; it's the first defense barrier for the skin. Jojoba oil is the closest in construction to human sebum and is a natural replacement for it. When the body cannot produce enough sebum to protect against the harsh external elements, jojoba oil is the perfect skincare solution.
"Jojoba oil contains essential vitamins for the skin such as Vitamin B, E and key minerals such as zinc, copper. In late adulthood, the human skin tends to produce lesser sebum hence making the skin dryer and dull looking. Jojoba is a natural supplement that can be used for skin care and has multiple applications for other body parts too," says Shiv Singh Mann, founder, Desert Splendour.
-Skin benefits
Jojoba oil helps retain moisture in the skin thereby keeping the skin hydrated and looking fresh. It also helps moisturize the skin without clogging the pores, allowing for a healthy skin type.
Since jojoba contains no harmful chemicals, it can be used as part of one's daily grooming routine. Jojoba oil can be applied on the full body, which makes it a good natural alternative to harsh sun screen creams. Jojoba soothes the burnt skin by going deeper into the tissues and healing them. It helps reduce the painful skin after a sunburn or tan.
The oil can also be used as an effective and natural makeup remover. All you need to do is take a few drops of the oil on cotton sob and simply glide it to remove stubborn eye shadow and kohl.
-Prevents razor burns
With its natural healing properties Jojoba oil is helpful in reducing skin burns during shaving. By soothing the surface of the skin and hair follicles it ensures there is no harsh razor burns, bumps or rashes post shaving. A few drops of jojoba oil rubbed onto the skin surface ensure you have a smooth shave every day.
-Improves Hair Health
Jojoba oil even helps strengthen hair follicles on the scalp causing hair to grow stronger and healthier. The presence of Vitamin E & B conditions the hair shaft making the hair shinier, adding volume and density.
"Head massages with jojoba oil help to also condition the scalp which ensures there is no scalp dryness. A dry scalp leads to problems such as scaly patches, dandruff and itching," Mann concluded.
Follow @htlifeandstyle for more.