World Breastfeeding Week: 5 celebs who taught us breastfeeding is normal
Aug 04, 2018 09:02 AM IST
It is 2018 and we continue to outrage about a mother's right to nurse her baby wherever she wants. Here are 5 celebrity mothers who told us that breastfeeding is normal and real, so just deal with it. We are proud of them.
A lot has been discussed about the importance of breastfeeding to nurture a newborn, yet there is widespread ignorance about this topic. However, what really helps the cause is when we see our much-loved, much-followed celebrities support the cause by talking about it openly. When celeb moms post photos of nursing their babies, it makes us feel that they are just like us, real. This International Breastfeeding Day, let's take inspiration from these 5 celeb moms who celebrate breastfeeding by talking about it and showing us that it is very normal.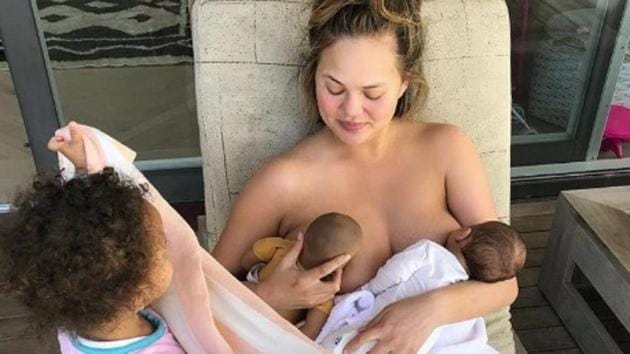 Padma Lakshmi: Model and host Padma Lakshmi has been consistently supporting the cause of normalising breastfeeding in public. Last year, she shared a photo of herself while getting ready and feeding her baby as a shout out to working moms everywhere.
Lisa Haydon: Model and actor Lisa Haydon gave birth to her son last year and since then has been very real about being a parent. Last year, she shared a photo of nursing her baby to celebrate International Breastfeeding Week.
Chrissy Teigen: Chrissy has always been very vocal about her parenting style through funny posts on social media. She's also the most relatable celeb parent out there and is followed by many for humorous take on various aspects of parenting. Though she's regularly trolled by people on the Internet, nothing stops this woman from making the right choice for her babies.
Mara Martin: Recently, the model made headlines for walking the ramp while breastfeeding her daughter. "I think women should be able to feed their babies how they want, when they want and where they want. End of discussion!" she wrote on Instagram.
Alyssa Milano: The actor has always been vocal about normalising breastfeeding in public. She's always supported other mothers in their fight to breastfeed their babies without judgement.
Follow @htlifeandstyle for more