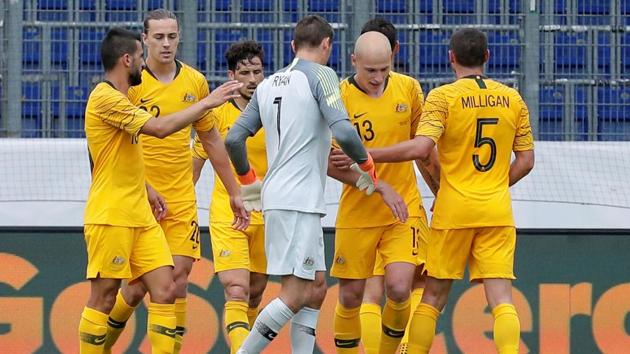 How a 31-0 'farce' changed Australia's FIFA World Cup fortunes
A 31-0 thumping of American Samoa in 2001 renewed the Australia national football team's determination to shift from the Oceania Football Confederation to the stronger Asian grouping, offering the chance of direct qualification to the FIFA World Cup.
Agence France-Presse, Sydney | By Agence France-Presse
UPDATED ON JUN 10, 2018 11:58 AM IST
When the Socceroos defeated American Samoa 31-0 in a World Cup qualifier in 2001, the freak result not only rewrote the record books but also helped change the course of Australian football.
The lop-sided scoreline, still football's biggest win at senior international level, was greeted with frustration rather than jubilation in Australian footballing circles.
It renewed the Australia national football team's determination to shift from the Oceania Football Confederation to the stronger Asian grouping, offering the chance of direct qualification to the FIFA World Cup.
The match itself, played before a crowd of 2,500 in Coffs Harbour, had the air of a ritual slaughter well before kick-off.
READ | FIFA World Cup 2018 team profile: Australia aim to punch above their weight
Australia had beaten Tonga 22-0 to set a goal-scoring record days before, and American Samoa were rated the worst team in the world at 203 in the FIFA rankings.
Worse still, the Pacific minnows could not field most of their senior players due to eligibility issues, and were forced to put out a team with an average age of just 18.
"Frightened is not the word," coach Tunoa Lui said, before his novice side faced Australia's hardened professionals.
"We are going to ask for help from above. We are asking the Lord to help keep the score down."
Men against boys
Luihe's prayers briefly appeared to have been answered as American Samoa held the Australians goalless in the first eight minutes -- before Con Boutsianis scored directly from a corner.
It opened the floodgates for an unprecedented drubbing as Australia raced to a 16-0 lead at half-time then kept hammering in goals after the break.
The rout was so comprehensive that the scoreboard operators lost count and showed the score as 32-0 at the final whistle.
Once that was cleared up, the scale of the result became apparent.
READ | Belgium most attacking, Morocco most miserly at 2018 FIFA World Cup
Striker Archie Thompson had 13 goals to his name -- still an individual record at senior level -- while David Zdrilic scored eight and Boutsianis finished with a hat-trick.
Reaction to the men-against-boys hiding was swift.
"International football was reduced to a farce," Britain's Daily Telegraph thundered, while the LA Times said "fair play (took) a real beating Down Under".
Even Thompson was sheepish, despite describing his world record as a dream come true.
"That sort of thing doesn't come along every day," he said.
READ | Zlatan Ibrahimovic points finger at Swedish media over FIFA World Cup snub
"But you have to look at the teams we are playing and start asking questions. We don't need to play these games."
In Australia, attention focused on the drawbacks of keeping the Socceroos in Oceania, the smallest and weakest of FIFA's six continental confederations.
'Final nail in coffin'
"It is too late to end the carnage this time around, but there should be no repetition in four years," football correspondent Michael Cockerill wrote in the Sydney Morning Herald.
Comprised largely of impoverished, small island nations, the OFC is the only confederation not guaranteed an automatic berth at the World Cup.
Instead, the Pacific region's best side must prove its worth through a play-off with a team from another, stronger confederation.
READ | FIFA World Cup 2018: Lionel Messi, Argentina face difficult group stage
It repeatedly led to a situation where the Socceroos breezed through Oceania qualifiers, only to fail during the inter-continental play-offs when they encountered quality opponents for the first time.
The pattern was repeated in 2001, when Australia lost a two-legged tie against Uruguay for a spot at the 2002 tournament in South Korea and Japan.
Australia qualified for the 2006 tournament, this time beating Uruguay in the play-off, but by then the move to Asia had been sealed.
It has proved a smart move: since joining the Asian confederation the Socceroos have not failed to qualify for a World Cup in 12 years, compared to a 32-year drought from 1974-2006 in Oceania.
Football historian Roy Hay said the record-breaking American Samoa game may have been the last straw for Australia's membership of the OFC.
READ | ACL rupture rules Argentina's Manuel Lanzini out of World Cup
"Australia trying to get into Asia goes back to at least the 1950s, if not the inter-war period," he told AFP.
"All through the ASF (Australian Soccer Federation) period (1961 to mid-2000s) they were well aware that apart from New Zealand there were no games against Oceania teams that were of any value to Australia.
"They didn't get any crowds, didn't get any interest, you couldn't sell it to the media. It (the 31-0 match) may have been a final nail in the coffin."
Close