Standard of FIFA U-17 World Cup has been very high: Sol Campbell
Former England and Arsenal centre back Sol Campbell is in India as part of the FIFA Technical Study Group (TSG) analysing events on the pitch at the FIFA U-17 World Cup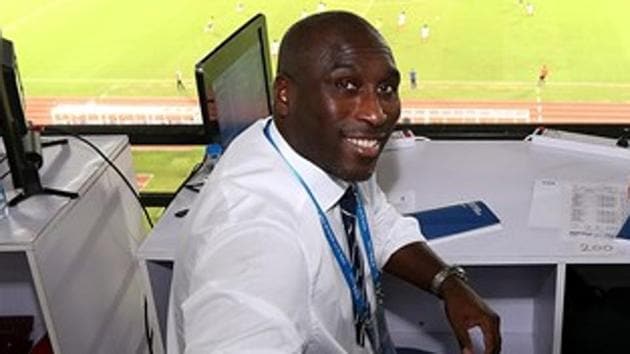 Published on Oct 27, 2017 01:59 PM IST
Press Trust of India, Kolkata | By Press Trust of India
Former England defender Sol Campbell feels that the quality of football in the FIFA U-17 World Cup in India, has been of high class with the young players showing sound technique.
Campbell, who has turned out 73 times for England between 1996 and 2007 and made over 400 appearances in England's Premier League for Tottenham Hotspur and Arsenal, among others, is here in India as part of the FIFA Technical Study Group (TSG) analysing events on the pitch.
"The standard and quality have been very high up until now. The players are only 16, 17 years old, which we shouldn't forget. I saw a lot of good things in the semifinals. The games moved quickly from defence to attack and there was often some high pressing to go with that.
"There's a lot of energy on show, teams demand to have the ball and place a lot of importance on possession," he said.
"Tactically, the players are already very advanced in their development, especially the European teams, though I do feel that sometimes they go into one-on-one situations too often. They have no fear, and that's a good thing."
READ | Marco van Basten hails quality of football at FIFA U-17 World Cup
He said that with the kind of spectator interest shown in this tournament, FIFA was right in allotting this tournament to India.
"Lots of people in India have a connection to football and FIFA have done a fantastic job here in giving them this tournament. I think that in the future, India would definitely be ready to host a FIFA World Cup.
"We are obviously in a cricket-dominated country, but it could be done - the support would be there. There are over a billion people here, so I am also sure that there's enough potential for India to participate at a World Cup at some point in the future," he said.
Campbell said the final match on Saturday between European sides Spain and England will be an even match.
"Both teams have impressed so far and they already came up against each other at the European U-17 Championship. That game needed a penalty shootout to produce a winner, which shows that they're evenly matched," said the 43-year-old.
READ | Rhian Brewster: England's FIFA U-17 World Cup hero awaits Liverpool chance
"Spain can play at a high tempo and they pass the ball confidently. England are very organised and will have to make sure to be 'streetwise' in managing the game and that will be the challenge for them. As an Englishman, I'm obviously pleased to see them reach the final. It's great to see how English youth football is improving."
He also picked Mali as another team which had impressed him though the African side lost to Spain in the semifinals.
"For me, Mali played very well at the tournament, even in losing to Spain. They had a lot of chances, but they lack that composure in the final third, and in terms of tactics especially, the African teams have some ground to make up. Spain demonstrated their tactical abilities by playing the right pass at the key moment," he said.
Asked which player has impressed him the most so far, he said, "No individual player can succeed without a strong team behind him. But at a tournament, every team needs two or three players to stand out, if you want to win the trophy.
"For example, England have Rhian Brewster, who's scoring from pretty much anywhere, while Spain have Abel Ruiz, another striker, who's extremely good in front of goal. It will be exciting to see them go head to head on Saturday," he concluded.
Close Story