Gurugram: Badshahpur drain set to get an eco-friendly makeover
A 6.5km stretch of the Badshahpur drain, which is to be revamped in the first phase, will have good quality walking and cycling tracks among other features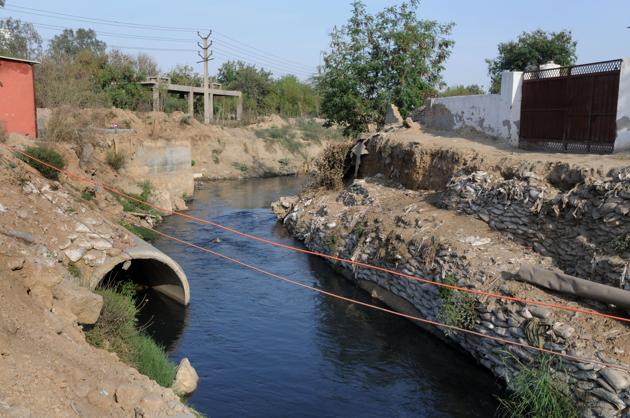 Updated on Apr 07, 2018 10:48 PM IST
The Municipal Corporation of Gurugram plans to transform the 28-km Badshahpur drain into an eco-friendly zone comprising cycle tracks, walkways, green areas, a lake, water bodies and sewage treatment plants on both sides. This drain has proved to be the bane for the city till date causing underground pollution and waterlogging every monsoon.
To bring this project to fruition, Gurugram MCG commissioner Yashpal Yadav held a meeting with senior officials of 18 banks and discussed the proposal which is to be taken forward as part of the corporate social responsibility of financial institutions.
"The meeting was very fruitful and the entire project was discussed in detail. We have received a very positive response. The project will be completed in phases and initially, a 6.5 km area along the drain shall be beautified from Sohna road to National Highway-8. The project will be implemented in collaboration with banks and an amount of ₹5 crore will be spent on it," Yadav said adding that he expects the project to be completed by the end of this year.
While the green area will also have kiosks, the box drain would be covered with trees, bushes and other eco-friendly elements in line of the vision of turning it into Gurugram's green lungs. Along the drain, small sewage treatment plants would be built to treat waste water and ensure that it is put to use.
Read I Gurgaon: For Badshahpur drain expansion, Huda offers land free of cost
"I had visited New York a couple of years ago and saw how an old railway line running across the city had been turned into a beautiful living eco-zone . I hope we can do the same with Badshahpur drain," Yadav said. After completing the 6.5km stretch, the MCG plans to take up the rest of the stretch from Vatika Chowk to Ghata Bundh, which would be done in two phases and will also include construction of a large and few small water bodies.
"This will help in regulating water flowing into drains during monsoon and will also recharge the city's groundwater level," Yadav said. The MCG also plans to set up an artisan village along the refurbished drain on the lines of Delhi Haat to promote local and regional art, culture and music.
The 6.5-km stretch would have good quality walking and cycling tracks, and bright lights would be installed to enable residents to use it even at night. Micro food courts, fenced entry and exit, cameras for security and adequate number of private security guards are also part of the plan, a presentation of which was held for bankers on Saturday.
"No doubt this is an ambitious project, but a city such as Gurugram deserves a green and eco-friendly recreation zone," Yadav said.
Close Story