Gurgaon: Woman dies of suffocation at Skrillex concert
Oct 13, 2015 02:54 PM IST
Delhi resident collapsed while dancing, say police; it is a case of vasovagal attack, which happens because of suffocation, says autopsy report
A 23 year-old woman from Delhi collapsed and died while dancing at the concert of internationally acclaimed band Skrillex at Leisure Valley Ground on Sunday evening. She was rushed to a private hospital where she was declared dead on arrival. According to police, the post-mortem report said she "suffocated to death".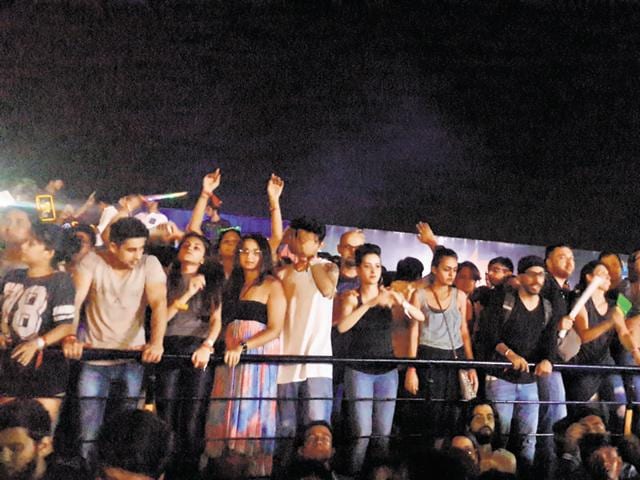 The woman, identified as Anchal Arora, a resident of Pitampura, Delhi, had come to Gurgaon with her friends to attend the concert. She was dancing when she suddenly collapsed, police said. Her friends tried to give her first-aid but she did not regain consciousness. She was then rushed to a nearby hospital, police said.
Dr Deepak Mathur, forensic expert at the Civil hospital, who conducted the autopsy on Monday, said, "It is a case of vasovagal attack. This is a disorder that causes a rapid drop in heart rate and blood pressure, resulting in decreased blood flow to the brain and fainting. Vasovagal attack is the most common cause for fainting. The disorder is also referred to as neurocardiogenic syncope. This happens due to suffocation."
The hospital informed the Sector 29 police station about the woman's death, police said.
While commenting on the arrangements at the venue, ACP (DLF) Ramesh Pal said, "The event was not well-managed. While seeking an NOC for the event, the organisers had said they expected a crowd of about 5,000. But, nearly 10,000 people turned up for the concert. The venue was congested."
"Arora had no disease or illness. She was last seen dancing. We have asked the team to get CCTV and video recording from the venue to ensure that there was no foul play. The body was handed over to the family on Monday after a post-mortem examination. The family has refused to pursue the case," the ACP said.
Police said the viscera and swabs have been sent to Madhuban forensic science laboratory, Karnal.
According to Arora's friends, she was a fun loving student. She was the youngest in the family, police said quoting friends.
Officials of Clockwork Events Private Limited, the event organisers, refused comment.