Camera traps set up at DLF Golf Course in Gurgaon after 'leopard sighting'
Residents of Aralias and Magnolias condominiums in DLF City, Gurgaon, complained to the forest department about sighting a leopard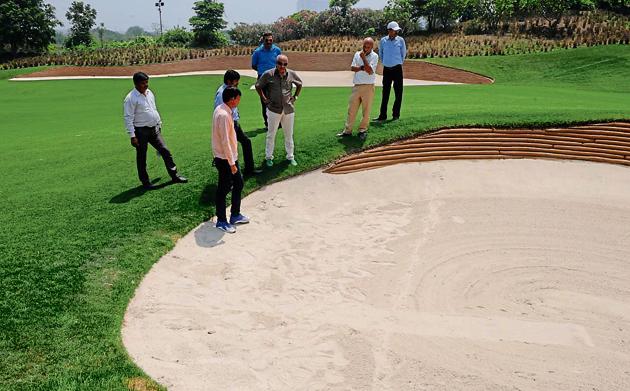 Updated on Apr 28, 2017 05:25 PM IST
Following complaints of leopard sightings in the area by residents of DLF City condominiums such as Aralias and Magnolias, a cage and two camera traps were installed in DLF Golf Course on Tuesday to ascertain leopard presence in the area.
The forest department received leopard sightings complaints around 8:30pm on Monday with residents of the upscale societies panicking. This is the first time that the department has installed camera traps in residential areas of the city. Forest department officials at the site said man-animal conflicts have increased in the region due to rapid urbanisation.
"We searched the entire area on late Monday evening, but did not find anything. However, there might be wildlife in the area as there is a dense greenbelt and the place is near Wazirabad. We have received complaints, but leopard sighting is not common to this part of the city. It might be a jungle cat. Till now, no evidence of leopard sighting can be confirmed," said MD Sinha, conservator of forest, South Haryana.
The camera traps installed in DLF Golf Course are equipped with infrared lights, night vision and are sensitive to movement.
"These camera traps will capture movement of animals at night too. They work on eight batteries that can last for 25 days," said Shyam Sunder Kaushik, divisional forest officer, wildlife, Gurgaon.
The department will check the cameras for footage for wildlife presence every week or fortnight.
Last year, 15 camera traps were installed in forest areas to track predator and prey populations and to analyse the pattern of their movement. Four stretches were identified where wildlife population has flourished over the years, according to forest department officials.
These four stretches include Bandhwari, Mangar, Dumduma, Garatpur bas, Raisina, Kot, Ghamdoz, Manesar and Wazirabad. The infra-red cameras were installed with the help of Wildlife Institute of India (WII), Dehradun.
Close Story