5 minors arrested for hacking man to death in Tamil Nadu, police suspect honour killing
Updated on Nov 24, 2018 11:41 PM IST
Thirty-two-year-old Shankar, a resident of Vellanguli village near Ambasamudram town, was hacked to death on Tuesday near the Tamiraparani River where he had gone to take a bath, police said.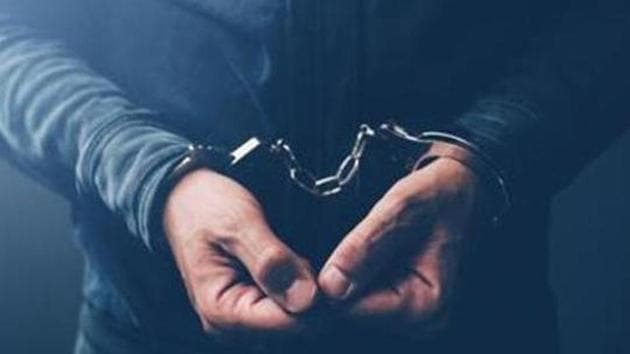 Hindustan Times |
MC Rajan
Police in Tamil Nadu's Tirunelveli district arrested five juveniles, including three school students, on Saturday and said they are on a lookout for two of their minor friends in connection with the murder of an employee of a cooperative bank in a suspected case of honour killing.
Thirty-two-year-old Shankar, a resident of Vellanguli village near Ambasamudram town, was hacked to death on Tuesday near the Tamiraparani River where he had gone to take a bath, police said.
Shankar, who belonged to the Konar or Yadav community, was in love with 25-year-old Sathyabama from the Thevar community, another backward caste. The college student was Shankar's neighbour.
The woman's family had agreed to their marriage after initially objecting to it. But the woman's 16-year-old brother was opposed to it as he was reportedly teased by his friends for the impending inter-caste marriage in the family.
"The girl's brother, the prime accused, conspired with his four of his classmates and a senior in 11th class besides two masons to carry out the murder," a police officer said on Saturday.
The official said Shankar tried to escape but the gang hacked him to death and returned home. "And the five students even attended school and the other two, who are masons, went to work as if nothing had happened," he said.
The police initially suspected that the murder was due to a property dispute between Shankar and his cousins. They picked up Sathyabama for questioning on Tuesday. And she was found hanging at her home on Wednesday morning.
"On further investigation, the girl's brother was picked up for questioning and he confessed to the crime," Tirunelveli's superintendent of police Arun Sakthikumar said.
Shankar was killed after an inter-caste couple in the state's Hosur was killed for marrying out of caste earlier this month.
Shankar's murder has striking similarities with a recent film produced by 'Kaala' director Pa Ranjit. In the film "Pariyerum Perumal," acclaimed as an authentic Dalit movie, the brothers of the female lead, a non-Dalit, conspire to kill the Dalit protagonist. However, they do not succeed in murdering the hero in the movie set in Tirunelveli district.
A spate of honour killings in the state has shocked everyone but this is the first time that juveniles are involved in such a crime. Such murders to protect caste honour, are frequent in the western and southern regions of Tamil Nadu, which prides itself as a pioneer of social justice.
Activists blame the laxity of the state government in constituting Vigilance Monitoring Committees (VMCs) as per the Prevention of Atrocities (SC/ST) Amendment Act, 2015, at local levels to monitor crimes against Dalits and tribals.
Responses to petitions through the right to information act have revealed that in many places they are either not constituted or remain dysfunctional.
"The vigilance panels have to be set up at the state, district and sub-divisional levels, headed by the chief minister and district collectors respectively. And they have to meet once in three months, but there is gross negligence in this," S Karuppaiah, general secretary of Dalit Liberation Movement, said.
"We have sourced information from 15 revenue sub-divisions in southern Tamil Nadu besides a few in the western region. Some have not even responded to the RTI queries. In none of the places, the vigilance panels are functional," Karuppaiah said.
The rise in the cases of honour killings has renewed the demand for a separate statute to tackle the issue, as directed by the Madras High Court and the Supreme Court. Tamil Nadu is yet to comply with it.
More than 350 women have been killed in so-called "honour killings" in India since 2014, according to government data, which are often carried out by family members who believe the relationship has brought "shame" on their community. Activists, however, say the crime is vastly under-reported and that many such killings are covered up to look like a suicide.
The latest data from National Crime Records Bureau (NCRB) shows 356 cases of honour killings were reported in the country between 2014-16. There were 28 in the country in 2014, 251 in 2015 and 77 cases in 2016. These include cases registered under section 302 (murder) and section 304 (culpable homicide not amounting to murder) of the Indian Penal Code.
Personalise your news feed. Follow trending topics