After ruckus, Parliament likely to discuss President's speech today
Feb 06, 2023 09:32 AM IST
Opposition leaders indicated that on Monday morning, protests are likely to continue for the first half, but they want discussions to start from 2pm.
After disrupting Parliament for two consecutive days, opposition parties are ready to participate in the discussion on the President's speech in both Houses on Monday. They will, however, try to corner the government over the exposure of the State Bank of India and the Life Insurance Corporation of India to the Adani Group amid a rout of share prices of its listed firms, said people aware of the matter.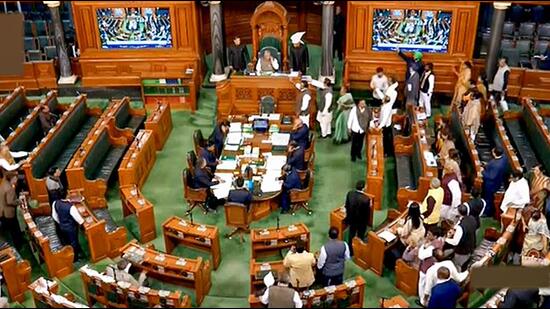 The Congress party has called a meeting of opposition outfits on Monday morning to take everyone on board. While most parties want resumption of debate, they remained divided over the demand for a joint parliamentary committee to look into the Adani issue, they said, seeking anonymity.
Congress and some of its allies are firm on the demand for a parliamentary penal, while the Trinamool Congress, the Aam Aadmi Party and a few others want a Supreme Court-monitored probe, the people said.
On Sunday, the Congress posed three questions to Prime Minister Narendra Modi, quoting his speech at a G20 meeting on acting against safe havens for economic offenders, tracking down and unconditionally extraditing money launderers and breaking down the web of complex international regulations and excessive banking secrecy that hide the corrupt and their deeds.
"Vinod Adani, the brother of Gautam Adani, was named in the Panama Papers and the Pandora Papers as someone who operates offshore entities," said Jairam Ramesh, Congress's general secretary for communications.
The Panama Papers are leaked documents published in April 2016 that detailed financial irregularities of more than 200,000 offshore entities. The Pandora Papers are leaked documents that the International Consortium of Investigative Journalists published beginning October 2021.
US-based short seller Hindenburg Research on January 24 accused the Adani Group of being engaged in "brazen stock manipulation" and "accounting fraud" via "a vast labyrinth of offshore shell entities". Adani Group has dismissed all allegations and calling the report an "attack on India and its independent institutions". Finance minister Nirmala Sitharaman on Saturday said that India's economic image has not been not affected due to the controversy around the Adani Group and its shares.
Hitting out the Centre, Ramesh said: "You have spoken often about your sincerity and niyat (intention) in fighting corruption and even subjected the nation to the heavy costs of demonetisation." "What does the fact that a business entity you are well acquainted with faces serious allegations tell us about the quality and sincerity of your investigations?," he asked.
The Congress leader also accused the government of misusing federal investigative agencies and asked: "What action has been taken, if ever, to investigate the serious allegations made over the years against the Adani Group? Is there any hope of a fair and impartial investigation under you?" Ramesh also wondered how one of India's largest business groups escaped serious scrutiny for so long despite persistent allegations.
Congress leaders alleged that during the debate, the party will raise similar questions and more to the government over the issue. Modi is expected to reply to the debate on Tuesday or Wednesday.
Derek O Brien, Trinamool Congress's parliamentary leader in the Rajya Sabha, also demanded a debate. "BJP scared. Trying to RUN AWAY FROM DEBATE in #Parliament Great chance to skewer Modi Govt from Mon Feb 6 when both Houses debate President's Address Keep a close watch. If any Oppn party disrupts, they are in CAHOOTS WITH BJP We @AITCofficial TMC want debate not disruption," he tweeted on Sunday.
Opposition leaders indicated that on Monday morning, protests are likely to continue for the first half, but they want discussions to start from 2pm.
Hindenburg's report led to a precipitous fall in the share prices of the Adani Group's listed companies. Hindenburg accused the conglomerate of improper use of tax havens and stock manipulation, while also raising concerns over high debt levels. On February 1, after Adani group companies were hammered on the stock market with its companies losing over 28% value in a single day, the company abruptly decided to abandon its ₹20,000 crore follow-on public offering, the largest in India.