Army major involved in human shield row detained with woman at Srinagar hotel
Hindustan Times, Srinagar |
Mir Ehsan
May 23, 2018 11:14 PM IST
Police said Major Leetul Gogoi was handed over to his unit and the incident will be investigated by a Special Investigation Team
Major Leetul Gogoi, the Rashtriya Rifles officer who shot to fame after tying a Kashmiri civilian to the front of his jeep to perceptibly prevent stone-pelting attacks, was detained by the police on Wednesday in circumstances that are still unclear.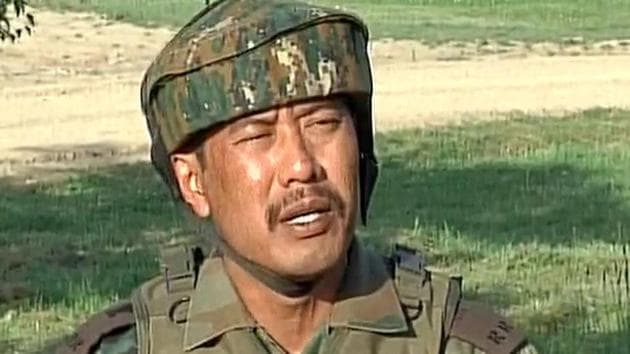 Also detained with him was a woman and a local man. The woman was initially suspected to be a minor but the police later confirmed she was over 18 years of age. They, however, did not share details on her age.
According to the police, they were summoned to Grand Mamta Hotel, where Gogoi had booked a room in his own name (the booking had been done online). The two locals came to the hotel and asked to go up to Gogoi's room and got into an altercation with the hotel staff when they were not allowed. The hotel staff called the police.
Gogoi has been released and has rejoined his unit, police said, adding that the two locals were still being questioned.
"A police party was deputed to the hotel, and it surfaced that a woman and a man, Sameer Ahmed of Budgam, had come to see some person in the hotel. The hotel reception didn't allow them to meet the person. All three were brought to the police station," said a police spokesperson.
He added that they later learnt that the woman had come to meet an army officer.
North Srinagar's superintendent of police Sajad Ahmad Shah declined to name the army officer, but the hotel management said the booking was in the name of Leetul Gogoi, a resident of Tinsukia, Assam. "What we know is that a man and a woman had come to meet him. The hotel staff did not allow them, leading to an altercation,'' Shah added.
"The room was booked online. A person came along with a local girl and sought (to go to) the room. Our hotel manager asked him for his identity and the identity of the girl. The girl was a local and according to our hotel policy we don't provide rooms to local unmarried couples,'' said the hotel owner, Manzoor Ahmad.
A person familiar with the matter said that Gogoi claimed he had booked the room to meet with a "source", although this is highly irregular and not in keeping with army procedures. Hindustan Times couldn't independently confirm this.
It is not clear whether Gogoi knew the woman he was meeting.
An Army spokesman declined to comment, saying the details of the incident were being ascertained.
Last April, during by-elections for the Srinagar Lok Sabha seat, Major Gogoi had tied a civilian, Farooq Ahmad Dar, to a bonnet of his jeep as a human shield to deter stone-pelters from targeting his troops. The incident led to a massive human rights controversy. Army Chief General Bipin Rawat awarded Gogoi a commendation card for his "sustained efforts" on counter-insurgency operations.