Bhopal hostage situation ends after 12 hours, 'stalker' wanted to marry woman
Police said the accused, identified as 30-year-old Rohit Singh, had taken the woman hostage at gunpoint in her city apartment – demanding that she marry him.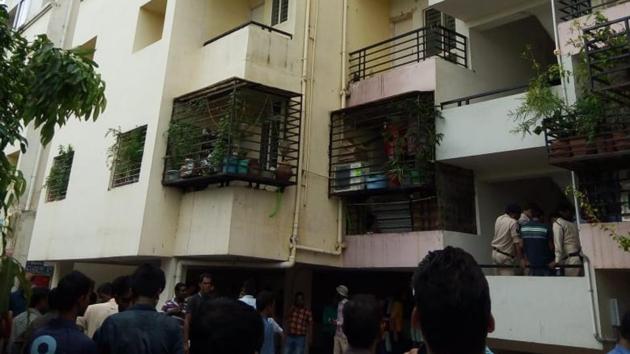 Updated on Jul 14, 2018 11:36 AM IST
A day-long hostage drama in Madhya Pradesh's Bhopal ended on Friday night when a 30-year-old man and the woman he had held captive at an apartment emerged and were whisked away by the police.
The man identified as Rohit Singh allowed the police to enter the apartment at 7pm, and was led outside together with the woman. The woman was on a stretcher and Singh had his face covered. They were made to board a waiting police vehicle that sped away .
Superintendent of police (South) Rahul Lodha said the police had been negotiating with Singh for the past 12 hours though video and voice calls to bring the drama to an end.
"His only demand was that they were in love and he wanted to marry the girl and that the police should help him. I told him that since both were adults, no one could stop them. We also talked to the girl, who also said that she wanted to go with Rohit. Our main aim was to get both of them out safely and we succeeded."
The SP said it appeared Singh was upset with the woman's parents, who were against their marriage and who had registered a case against him and got him arrested. He added that both would be counselled and action would be taken according to the law.
Deputy inspector general of Bhopal Dharmendra Choudhary said the police had formally arrested Rohit. "We have booked him under Section 307 (attempted murder) for attacking the girl and also attacking a policeman in the morning when he had tried to rescue the girl. Rohit has also been charged for holding the girl captive (342, 506 of IPC).
The DIG said the woman said in her statement before police that she did not want to marry Rohit, and feared for her life. She said that earlier she had agreed to whatever Rohit was saying as he was armed with scissors and a gun, and was threatening her. She gave the statement from her hospital bed late on Friday night.
The man barged into the woman's house early in the morning and took her hostage at gunpoint, claiming he loved her and wanted to marry her. He then locked himself up with her in a room, later heightening the drama by releasing a video clip in which a woman is seen lying on a bed and what is purported to be blood over the floor.
Police officers said on condition of anonymity that the woman, who holds a master's degree in technology, met Singh while she was on a modelling assignment in Mumbai.
The girl's parents did not speak to the media but appealed to Singh to release their daughter. They acknowledged that he and their daughter knew each other. Hindustan Times is not naming the woman to protect her identity.
In the video clip which he released, showing a woman on a bed and blood on the floor, Singh introduces himself and also names the woman, claiming they love each other. He says her parents called her back to Bhopal after they came to know of their relationship.
Singh said the police were responsible for the condition of the woman seen in the clip.
"See all the blood. The police have surrounded us and they attacked us with knives and you can see the condition. There is blood all around. Please share this video as much as possible so that the police are brought to justice," he says in the clip.
Singh also released an affidavit purported to have been signed by the woman in which she says that she knew him for the past two years and that she wanted to marry him and that they would die if they were not allowed to wed. It could not be independently confirmed whether the woman signed the letter on her own or was forced to do so, The police refused to comment on the affidavit signed on a stamp paper.
Earlier in the day, SP Lodha said the police were constantly in touch with Singh and trying to negotiate with him. Lodha also asked reporters to move away from the area, saying Singh was becoming nervous. The police were seen communicating with Singh and sending him milk, clothes and other necessities though a bucket tied with a rope.
Some neighbours who did not want to be named claimed Singh had come to the woman's house and had created a scene on the day of Holi in March. At that time, the neighbours had told him that such behaviour would not be tolerated in the apartment complex and if he wanted to marry the woman, he should do it in a proper manner.
Neighbours also said that the woman may not want to marry Singh. "I don't think that the woman wants to marry him, the guy is just harassing her," an apartment owner in the same building said.
Police in the Bhopal suburb of Misrod said the woman had lodged a complaint against Singh and a case of harassment had been registered against him around the time of the Holi incident. "He was released on bail, and we had told the woman to be alert," a police officer said on condition of anonymity.
Singh told Zee News that he had been harassed by police in the past. "When I reached Bhopal (around Holi), a police complaint was filed against me. They harassed me, tortured me, which is why I took this step," the news channel quoted him as saying.
Close Story