Alwar court acquits 6 men accused of lynching Pehlu Khan on video
Fifty-five-year-old Pehlu Khan was attacked by alleged cow vigilantes in Alwar on the Jaipur-Delhi national highway, when he and five others were transporting cattle from a weekly market in Jaipur to their village in Nuh, Haryana. Khan died in the hospital on April 3, 2017.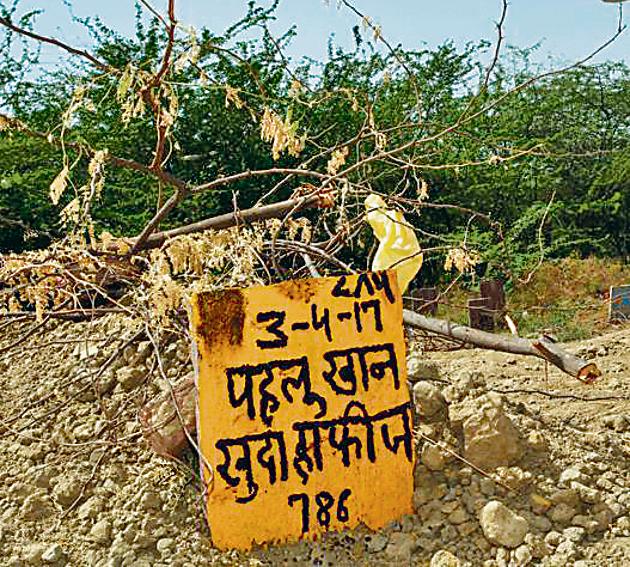 Updated on Aug 14, 2019 10:44 PM IST
Hindustan Times, Jaipur/Alwar | By Rakesh Goswami and Devendra Bhardwaj
An Alwar court acquitted on Wednesday six people accused of lynching dairy farmer Pehlu Khan while he was transporting cows in Rajasthan two years ago.
The court of additional district judge Sarita Swami gave the six men the "benefit of the doubt," additional public prosecutor Yogendra Khatana said. The government said it will appeal the verdict in high court.
A copy of the court order was not immediately available. There are three more accused in the case, all minors, who are being tried in a juvenile court.
The six men cleared of all charges on Wednesday — Vipin Yadav, Ravindra Kumar, Kaluram, Dayanand, Yogesh Kumar and Bheem Rathi — were all members of a local cow protection group.
None of them was named in Khan's dying declaration, and were arrested on the basis of identification in a viral video of the April 1, 2017 incident. The six men who were named by Khan as his attackers were cleared by police during investigation in September 2017.
Defence lawyer Hukum Chand Sharma said there were several loopholes in the police investigation, including the lack of forensic testing of the video. "Several loopholes in police investigation worked in our favour. Police didn't send the video for forensic testing or take the accused for an identification parade either in jail or in court. There were discrepancies in the medical reports over cause of Khan's death," he added.
Khan's lawyer, Kasim Khan, said he will study the judgment, which is expected to be made public on Friday. "We will move an appeal in high court. We expected conviction in the case," he added.
Rajasthan additional chief secretary (home) Rajiv Swarup said the government will file an appeal against the court verdict.
Khan's elder son, Irshad, said the family was shocked. "We have lost faith in law. We thought justice would be delivered and it will give peace to my father's soul but instead our hopes are shattered," he said over telephone from Haryana. No one from Khan's family was present in the court on Wednesday.
Khan was transporting cows from a market in Jaipur to his home in Nuh, Haryana, when he was lynched by alleged cow vigilantes on the Delhi-Jaipur highway near Behror in Rajasthan's Alwar district on April 1.
Khan's family said he had the necessary permit to transport the cows for his dairy business. A video showing Khan being thrashed by a mob of alleged cow vigilantes surfaced soon after the incident.
Based on Khan's statement made in the intensive care unit of Kailash Hospital in Behror around 11pm on April 1, 2017 -- about four hours after he was attacked -- an FIR was registered against six named and 200 unidentified people. He died two days after the attack.
Khan's statement was recorded in front of a police officer – and not a judicial magistrate. Dying declarations made before a magistrate are generally given more weightage than those made to a police officer or doctor, although courts can accept the latter too.
The initial FIR was filed for voluntarily causing hurt, rioting and wrongful restraint. The murder charge was added after a public uproar. Police also registered a case of cattle smuggling against Khan's sons, Irshad and Arif, and a truck operator.
In September 2017, the police closed investigation against the six men Khan named based on the statements by the staff of a cow shelter as well as mobile phone records.
The staff of a local cow shelter, Rath Gaushala, told police that the six men -- Om Yadav, Hukum Chand Yadav, Sudhir Yadav, Jagmal Yadav, Naveen Sharma and Rahul Saini – were present on their premises, which was about four kilometres from the attack site at the time the attack took place.
At the time, Irshad, who was present during the attack and got injured, told HT that he had heard the attackers call out each other's name during the incident.
The hearing in the case concluded on August 7 and the judgment was pronounced on Wednesday evening.
Sharma called the Alwar decision "historic" and a "slap on the face" of people who he said were politicising the case. .
Leader of opposition in Rajasthan assembly and senior Bharatiya Janata Party (BJP) leader, Gulab Chand Kataria, who was Rajasthan home minister when the incident happened, said his administration's stand had been vindicated.
"Our stand was clear, action will be taken against whoever violated the law. We did whatever could be done but in the Pehlu Khan case, an atmosphere was created that we were supporting people who were killing others, which was wrong," he added.
Rajasthan transport minister and Congress leader Pratap Singh Khachariyawas said the acquittal of the six men needed to be probed. "A video is made, then too the culprits get away. I personally believe that if a mob beats someone then it's an insult to the Constitution."
The judgment comes roughly two weeks after the Rajasthan assembly passed a bill providing for life imprisonment and a fine up to Rs 5 lakh in cases of mob lynching involving the victim's death.
People's Union for Civil Liberties (PUCL) general secretary Kavita Srivastav said the previous Vasundhara Raje government filed a very weak charge sheet in the Pehlu Khan case.
"The police deliberately did not send the video of the attack for forensic testing and did not put the accused through the identification process. Senior police officers are to blame for this," she added.
Topics
Close Story