Cyclone Nisarga snaps trees, electricity poles in Maharashtra's Raigad
Several trees were uprooted, electricity lines brought down leaving thousands without power and houses flattened in Maharashtra's Raigad district, close to Alibag, where Cyclone Nisarga made landfall on Wednesday.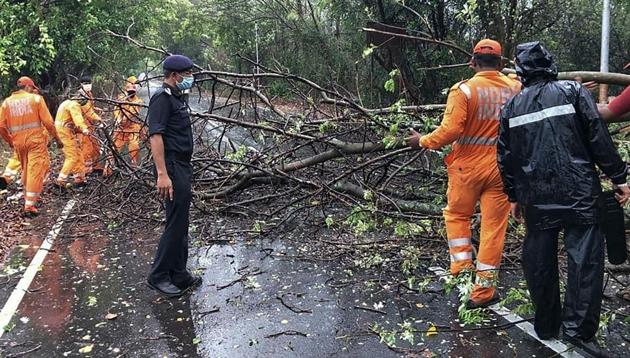 Updated on Jun 03, 2020 09:56 PM IST
Hindustan Times, Alibag/Murud/New Delhi | By Badri Chatterjee and Jayashree Nandi | Edited by Meenakshi Ray
Several trees were uprooted, electricity lines brought down leaving thousands without power and houses flattened in Maharashtra's Raigad district, close to Alibag, where Cyclone Nisarga made landfall on Wednesday.
Officials said 85 large trees, some of which fell over houses, and 11 electric poles were ripped out as the National Disaster Response Force (NDRF) said its team will assess the damage once the intensity of the wind decreases.
A 53-year-old man in Alibag died on Wednesday after an electric pole fell on him.
ALSO WATCH | Amid cyclone, plane skids off runway in Mumbai
At the NDRF camp between Alibag and Murud, high-speed winds with a maximum level of 110kmph were recorded after the cyclone moved over the region, said the forces' inspector Mahesh Kumar.
Kumar added that around 2pm, the wind speed came down to 85-90kmph, as per information from the state India Meteorological Department (IMD).
With the upper part of the cyclone passing over Alibag and reaching Panvel, Mumbai is likely to experience wind speeds of 75kmph.
Also read | Cyclone Nisarga forces Mumbai airport to stop operations till 7 pm
Seven coastal districts of Maharashtra have been put on red alert by the Indian Meteorological Department (IMD) and heavy to very heavy rainfall is predicted for both Maharashtra and Gujarat.
Nisarga's name was proposed by Bangladesh and means 'nature' in Bengali.
It comes in the wake of Cyclone Amphan that devastated the lives of over a million people and left more than 90 dead when it made landfall on May 21 at the Sunderbans in West Bengal.
Landfall
Cyclone Nisarga started making landfall at 11.30am south of Alibag in Maharastra's Raigad district with strong winds of 120 to 140kmph, stronger than expected, making it the second severe cyclone to hit Mumbai since 1961.
RK Jenamani, a senior scientist at the weather forecast department, said Cyclone Nisarga will gradually enter Mumbai and Thane districts.
"Landfall is just beginning. It will take three hours to complete the process," Jenamani said.
The cyclone was about 500km in size when it was in the ocean and its wind speed ranged from 110 to 120 kmph.
The teams of NDRF on the ground witnessed Nisarga make landfall between Murud and Revdanda areas in Raigad district.
"The severe cyclone made landfall at speeds up to 100kmph. It will pass from the landward end over Alibag just brushing past the taluka at wind speed ranging from 85-90 kmph," Mahesh Kumar, inspector in charge of Cyclone Nisarga operations, said.
Kumar added that two teams from Alibag were sent to landfall sites—both located at respective police stations of Revdanda and Murud for disaster operations.
The last severe cyclonic storm to hit close to Mumbai was in 1961.
But climate scientists warned that the devastation can be extensive as today's Mumbai is very different from the Bombay of the 1960s and has lost most of its floodplains and rivulets and is now counted as among the densest cities in the world.
When heavy rains lash over a city like Mumbai which has lost its flood plains and defences, the flooding gets prolonged, scientists said.
Flights disrupted, traffic stopped
Rain and high-speed wind continued to lash Mumbai as Cyclone Nisarga made landfall close to Alibaug, about 90km to the city's south.
The Mumbai International Airport Limited (MIAL) said Cyclone Nisarga forced to cancel flight operations at the Mumbai airport between 2.30pm and 7pm. Twenty flights, including 12 departures and eight arrivals, were scheduled from Mumbai through the day.
"In consultation with AAI, considering the strong crosswinds, it has been decided that no arrivals and departures will take place between 14:30-19:00 hrs," a MIAL spokesperson said.
The cyclone with a wind speed of 120 to 140kmph also forced authorities to close the Bandra-Worli sea link.
Also read | Cyclone Nisarga: Nearly 1,00,000 evacuated, rains from Mumbai to Hubli
The Maharashtra government has evacuated around 60,000 people from the state's coastal region of Konkan and brought 7,003 fishing boats back to the shore with the help of disaster management authorities.
Maharashtra energy minister Nitin Raut has warned that the cyclone is likely to cause severe damage to power lines and poles.
"Maharashtra State Electricity Distribution Company's officers, employees, contractors, and systems are prepared. Let's all be vigilant and overcome this crisis," he said.
The Indian Railways has not cancelled any passenger trains on Central or Western Railway yet but rescheduled five.
A tree fell between the Kurla and Vidyavihar railway stations and the railways has taken a lock has been taken to clear the tracks used for the operation of local train services.
NDRF has deployed 43 teams in Maharashtra and Gujarat and also evacuated nearly 1 lakh people living close to the coastline and said that 21 of them on standby in Maharashtra and the rest in the neighbouring state.
Officials said NDRF teams deployed in Maharashtra have spread out in Mumbai, Palghar, Thane, Raigad, Ratnagiri and Sindhudurg.
In Maharashtra, schools have been converted into temporary cyclone shelters and several families living close to the coast have been evacuated and shifted to these cyclone shelters by the NDRF.
The Indian Coast Guard has also mobilised eight disaster relief teams for Maharashtra to respond to any requirement of assistance due to Cyclone Nisarga. The teams have been placed at Dahanu, Mumbai, Murud Janjira and Ratnagiri.
Close Story