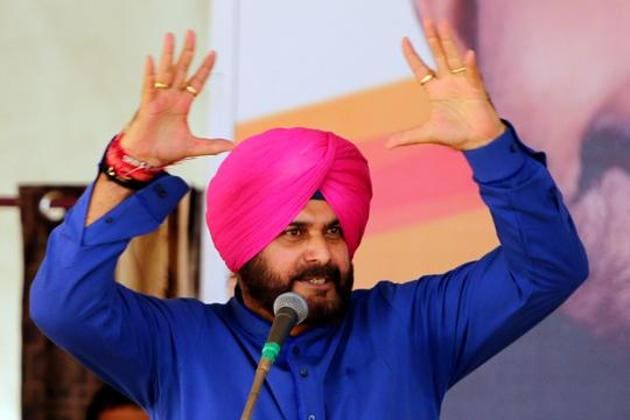 Delivered, says minister Navjot Sidhu on his resignation to Punjab CM Amarinder Singh
Navjot Sidhu, who had never really gotten along with Punjab CM Amarinder Singh, had last month sent his resignation to Congress president Rahul Gandhi after the reshuffle.
UPDATED ON JUN 02, 2020 12:26 AM IST
Navjot Sidhu, the Punjab minister who announced his exit from the Amarinder Singh government on social media over the weekend, finally sent his resignation to the chief minister on Monday. This one, he confirmed on Twitter, had been delivered at Capt Amarinder Singh's official residence.
Sidhu hadn't taken charge of the power ministry that he was allocated by chief minister Amarinder Singh in a reshuffle last month when he was stripped of his portfolios of Local Bodies, Tourism and Culture.
Sidhu, who had never really gotten along with the chief minister, had last month sent his resignation to Congress president Rahul Gandhi after the reshuffle.
Also Watch | Navjot Singh Sidhu resigns as Punjab cabinet minister
That letter – released by Navjot Sidhu on Sunday – is widely seen as a signal to the party that it was becoming difficult for him to continue in the Punjab cabinet. There were some attempts by senior Congress leaders to negotiate a compromise but the effort did not get far.
Navjot Sidhu too continued to skip office and was seen in public over the last month in his home town of Amritsar and at the Vaishno Devi shrine.
Sidhu's 'I quit' message on social media over the weekend was also designed to respond to the Bharatiya Janata Party that had been hurling darts at him for absenting himself from the power ministry and cabinet meetings, demanding that he resign if he wasn't going to work as a minister.
Navjot Sidhu also has had to face some awkward moments over his reported remarks in the run-up to the national elections over Rahul Gandhi-Smriti Irani faceoff in Amethi. Sidhu had responded to criticism over Rahul Gandhi contesting elections from Kerala's Wayanad, pointing that he would quit politics if Rahul Gandhi lost the Amethi Lok Sabha.
But his exit from the Punjab cabinet is widely linked to the widening divide with the Punjab chief minister.
The cold war between Amarinder and Sidhu has not abated since the cricketer-turned-politician went to Pakistan on the invitation of Prime Minister Imran Khan for his swearing-in ceremony last August. The visit sparked a controversy because Sidhu was seen hugging Pakistan Army chief General Qamar Bajwa.
Amarinder chastised Sidhu for "demoralising" the Indian defence forces when political opponents from the Bharatiya Janata Party (BJP) and the Shiromani Akali Dal (SAD) attacked him over the gesture.
The tensions between the two escalated when Sidhu went to Pakistan for the groundbreaking ceremony of the Kartarpur corridor in November last year despite Amarinder declining to accept the invitation and advising Sidhu to do the same.
Close