Mahalaxmi Express rescue ops in Mumbai end, over 1000 passengers evacuated
The NDRF and the Navy which began rescue operations at noon, took about three hours to evacuate passengers from the Mahalaxmi Express which had stranded on flooded tracks early Saturday after heavy rain around Mumbai.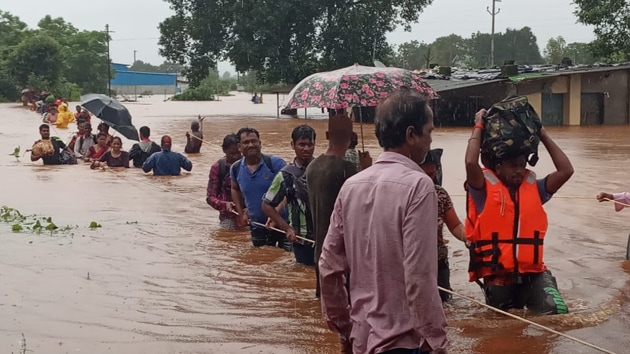 Updated on Jun 05, 2020 10:19 PM IST
Hindustan Times, Mumbai |
HT Correspondents
Over a thousand passengers onboard the Mahalaxmi Express who were stranded after the train stalled on flooded tracks early Saturday morning, have been rescued, a top official said.
"All the passengers were rescued safely from Mahalaxmi express. They are being provided food and medical aid. There were nine pregnant woman in the train who were safely rescued. One of them is admitted to a nearby hospital for check-up," Thane district collector Rajesh Narvekar said in a statement.
The rescue operations lasted about three hours after they began at noon.
The National Disaster Response Force (NDRF) and the Navy had launched a massive rescue operation and the first lot of 150 passengers was rescued around midday after the train had been stranded for nine hours about 90 km from Mumbai.
Two NDRF teams from Pune and two from Mumbai with 45 personnel each are involved in the rescue operations while the navy deployed eight rescue teams including flood relief teams and specialist divers. On request from the state government, defence forces also sent two helicopters to the spot.
The train had departed from Mumbai around 8:15 pm on Friday before it got stuck in flood water at 3 am. In the morning Railway Protection Force, local police and other teams reached the train and distributed biscuits and water to the stranded passengers.
Several suburban local local and few outstation trains were stranded between Kalyan and Vanagani stations since last night, due to flooded tracks after heavy rain lashed neighbouring Thane and Raigad districts.
Train services between Kalyan and Karjat have been suspended. Central Railway claimed that the tracks at Vanagani flooded due to overflow of Ulhas River which forced the diversion of train movement via Karjat-Panvel-Diva route.
Flight operations fared better. Normal flight operations resumed in Mumbai Saturday morning after torrential rain forced the diversion of 17 inbound flights on Friday evening even as the Met office predicted heavy rain over the weekend.
By 7:42 am, seven aircraft had taken off from the Mumbai airport. They include five IndiGo, one Air India and one Emirates aircraft.
The rain had also forced the cancellations of seven outbound flights and four incoming planes while eight flights were asked to circle and nine were diverted past midnight.
Friday's rain left several arterial roads in the city waterlogged that sparked traffic jams and threw life India's financial capital out of gear.
Watch: Mahalaxmi Express with 1000 passengers stranded near Mumbai, NDRF at spot
Rain continued on Saturday morning in many parts of the suburbs. However, from 8am onwards rains eased over south and central Mumbai.
Over 24 hours, between 8.30am Friday and 8.30am Saturday, the Santacruz weather observatory, representative of the suburbs, recorded 219.2mm (extremely heavy) rain. Of this 196 mm was recorded in 15 hours from 5.30pm Friday to 8.30am Saturday. South Mumbai recorded 90 mm rain over the past 24 hours, falling under the heavy rain category.
According to the weather department, 15.6mm to 64.4mm of rain is considered 'moderate', 64.5mm to 115.5mm 'heavy', 115.6mm to 204.4mm 'very heavy' and more than 204.5mm 'extremely heavy'.
Rainfall between Friday and Saturday was still much lesser than extremely heavy rain spell on July 2 and 3 when 375 mm was recorded in 24 hours, highest since July 2005.
Neighbouring areas of Mumbai too, received very heavy to extremely heavy rain with Karjat recording 303mm over 24 hours. Areas like Thane, Navi Mumbai, Badlapur, Kalyan and Dombivli witnessed waterlogging here rainfall ranged between 140 and 160 mm.
The weather bureau's forecast for the past 48 hours has been correct and they further predicted intermittent spells of heavy to very heavy showers can be expected for Mumbai and neighbouring areas throughout Saturday while rain intensity may reduce on Sunday.
Also read: 2 pumping stations in Mumbai get civic body push
"Under the influence of an upper air cyclonic circulation over south Gujarat, strong westerly winds continue to draw moisture and thick cloud cover along the Mumbai coast leading to active monsoon conditions with short bursts of heavy rain," said Bishwambhar Singh, director, regional meteorological centre, India Meteorological Department (IMD) Mumbai.
From Friday evening onwards, convection currents (upward currents in the atmosphere due to cool air coming in contact with heated earth surface) led to a strong rain-bearing cloud patches passing over the Mumbai Metropolitan Region, said independent weather experts.
"Rain intensity will reduce significantly from Sunday onwards with another break in monsoon conditions as the upper air cyclonic circulation will weaken. However, as of now, strong westerly winds continue to feed moisture over land leading to on-and-off showers till Sunday morning," said Mahesh Palawat, vice president (meteorology and climate change), Skymet.
Experts also explained that the east coast was experiencing active monsoon conditions, which was further enhancing rain activity along west coast.
"A strong system over Bay of Bengal is keeping the circulation over south Gujarat active and allowing more moisture incursions over the west coast strengthening westerlies. All these factors intensified showers over Mumbai and surrounding areas," said Sridhar Balasubramanian, associate professor, department of mechanical engineering and associate faculty, IDP Climate Studies, Indian Institute of Technology, Bombay.
The weather bureau has asked citizens to avoid outdoor travel as much as possible because of the heavy rain forecast for the weekend. However, comparing the current weather scenario to that of July 26, 2005 when Mumbai recorded 944 mm rain in a single day would create unnecessary panic, said a meteorologist.
"The July 26, 2005 heavy rainfall was a rare meteorological event, Thus, a forecast of heavy rainfall around the same time in a year doesn't mean that there will be another deluge like 2005. The city witnesses multiple heavy rainfall events during monsoon seasons, so people must discourage rumours, stay calm and seek assistance if required from the administration," said Akshay Deoras, meteorologist and PhD researcher at the department of meteorology, University of Reading, UK.
Close Story
Personalise your news feed. Follow trending topics