How RSS, technology are helping BJP's welfare push | Analysis
Even if Sharad Pawar and Narendra Modi or Devendra Fadnavis had the same level of popularity in the state, the BJP's organisational push would clearly pull it ahead of its opposition.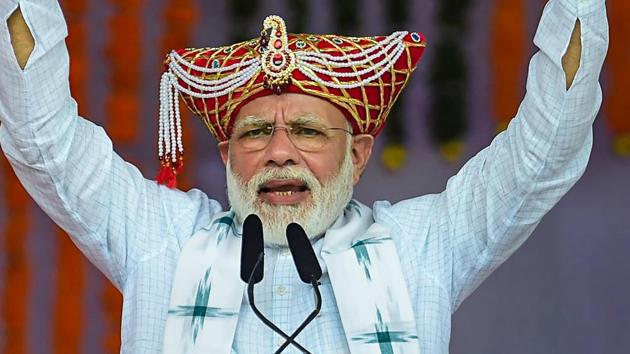 Updated on Oct 14, 2019 05:16 AM IST
As we are about to enter Nashik while coming from Mumbai, the first Google search for a Bharatiya Janata Party (BJP) office leads us to a small place in Khutvad Nagar. There's no official signboard of the party there, but we are told that the office belongs to Pradip Peshkar, who heads the industry-wing of the BJP in Maharashtra.
The person who's manning the fort is a full-timer of the Rashtriya Swayamsevak Sangh (RSS) from Indore, Madhya Pradesh. Peshkar was away from office due to health reasons.
The first thing which strikes us in the office is a black and white A4 size poster on the wall, which gives a summary of the Nashik West assembly constituency (AC). Along with the usual information about geography, there is something extremely striking in that poster. It gives a detailed demographic break-up of the electorate: 60-70,000 local residents, 70-80,000 from Nashik and Khandesh district, 20-25,000 from Vidarbha, 25-30,000 from Western Maharashtra, Konkan etc. There are another 100,000 voters from other states, it says. This is not the kind of information which any official government data would give you. Where did you get these statistics from, we ask? We have done our own survey, comes the reply.
This is not all. The office also knows exactly how many beneficiaries have been enrolled in various government programmes, such as Ayushman Bharat and the pension scheme launched in the last budget by the central government. Another person is called to give us summary statistics for enrolment, KYC verification etc. for Ayushman Bharat. He writes it on a piece of paper.
This small BJP office perhaps tells us how the party is redefining the politics around welfare in this country. Narendra Modi's is not the first government to announce big-ticket welfare schemes in India. But if the Nashik office is any indicator, the BJP is definitely the first political party to actively deploy its cadre in ensuring that people enroll into these schemes and the party keeps a track of beneficiaries. Perhaps, West Bengal in the days of the Communist Party of India (Marxist) would have done such a thing, where the party used to be the conduit for every interaction with the state. This created a big network of interference and corruption.
But there is a difference between what West Bengal during left rule and the BJP today are trying to achieve. "It's technology," Girish Plave, Nashik president of the BJP, tells us. Today, the government has introduced lots of checks in every scheme. Everything is linked with Aadhar cards and bank accounts. Nobody can take these benefits away. Corruption has been reduced, he tells us. It is partly true. While, Aadhar integration etc. have led to some wrong exclusion in welfare schemes such as PDS, it is not that easy to siphon money between the government and the ultimate beneficiary.
However there is another side to the BJP's efforts to encash its welfare schemes. It is the RSS full-timer. By putting in place a full-time cadre who is not a local and gets some sort of a subsistence wage; the man we met had a monthly salary of Rs 10,000, a motorbike, place to stay and promise to be served meals in houses of BJP supporters, there is an in-built system of oversight. He and his peers had an audience with Amit Shah before being deployed in Maharshtra.
All these things make the perfect cocktail for a political party. There's an ideologically committed cadre, who even while working at the local level has no incentive to get drawn into local political machinations.
The party today has the resources to allow a basic standard of living for this person. And there's technology with a very sophisticated back-end at the central level, which perhaps translates disaggregated information sent from the local level into crucial election-handy minute statistical details for each and every constituency.
There might be an element of truth in the claim that most welfare schemes of the government do not offer something very radically different. But these claims, until they are taken to the voter, who's being approached systematically by the BJP cadre throughout the year, can have little political impact.
Is the opposition trying to do this? We tried to find out. But the Rashtravadi Bhawan, a very posh four floor office of the Nationalist Congress Party (NCP) did not even have one person except an old receptionist who drove us away.
They are banking on Sharad Pawar's rallies to turn the tide. Even if Sharad Pawar and Narendra Modi or Devendra Fadnavis had the same level of popularity in the state, the BJP's organisational push would clearly pull it ahead of its opposition.
Close Story