In Madhya Pradesh, baby born with heart outside her body battles for life
Updated on Apr 09, 2017 12:07 PM IST
A baby girl in Madhya Pradesh born with her heart outside her body is fighting for her life. Her rare medical condition occurs in just eight cases per 10 lakh live births.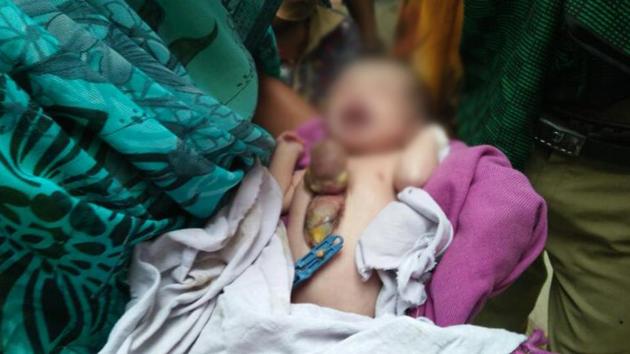 Hindustan Times, Sagar |
Anupam Pateriya
Her heart is literally beating outside her body. This newborn girl with a rare congenital medical condition called Ectopia Cordis (heart outside body) is battling for her life in Bundelkhand's Chhatarpur district, 331 km north east of Bhopal. Her anxious father is running from pillar to post for her treatment.
According to medical experts the occurrence of this freak case is 8 per 10 lakh births.
Her father Arvind Patel lives in Khajuraho and works as a private security guard at the world heritage site Khajuraho temple. "After my marriage to Prem Kumari, all my family was happy when we were having our first child. On April 5 around 3.26 am at Khajuraho Primary Health Center my wife gave birth to the girl child who was having her heart outside. The doctor referred us to Chhatarpur district hospital but did not give us anything in writing," he told HT.
Patel said at Chhatarpur district hospital, his wife was admitted at child and maternity ward but not much could be done there to help the baby. "The doctors there told us that for treatment we have to take the child outside and her treatment will be very expensive and cost around Rs 25-30 lakh. My elderly father who was with us became ill due to tension and next day we came back to Khajuraho, helpless".
Patel said later he received a call from the district hospital informing that the child will be referred to Gwalior. "So on Friday evening we left for Gwalior where she was admitted at Gajraja Medical College", he said.
He said he came back from Gwalior to meet Chhatarpur collector to seek help for her daughter's treatment. "I am from a poor family and cannot afford expensive treatment, medicine, different check ups and so on," he said.
Dr SK Gupta from Khajuraho Health Center told HT that the baby had her heart outside her body which is known in medical science as 'Ectopia Cordis' . "After the delivery she was referred to SNCU Chhatarpur district hospital .It is a very rare disease and for the first time it has been reported in Khajuraho," he said.
Dr RS Tripathi, civil surgeon, Chhatarpur district hospital told HT that they had referred her to Gwalior Medical College, given the rarity of the medical condition. "We sent the family in our ambulance on Friday and she has been admitted in Gwalior", he said.
The infant was eventually referred to the All India Institute of Medical Sciences (AIIMS) Bhopal.
Ramesh Bhandari, collector Chhatarpur told HT government aid would be provided to the infant according to the treatment process. "The girl has been referred from Gwalior to AIIMS on Saturday. She will be taken there in an ambulance. We are monitoring the case and all possible help will be extended to the family," he said.
What is 'outside heart' or Ectopia Cordis?
According to medical experts, Ectopia Cordis is a congenital malformation in which the heart is abnormally located either partially or outside the thorax. It results from a failure of proper maturation of body wall formation during embryonic development. The 'outside' heart can be found along neck, chest or abdomen. Its occurrence is 8 per million births and though successful surgeries have been performed, mortality rate remains high.
Close Story
Personalise your news feed. Follow trending topics