India should tell Burma to end Rohingya abuses: HT Q&A with Meenakshi Ganguly of HRW
Rohingyas - Muslims of the northern part of Rakhine state - see themselves as an indigenous minority of Myanmar, but the Buddhist-dominated government labels them as Bangladeshi migrants.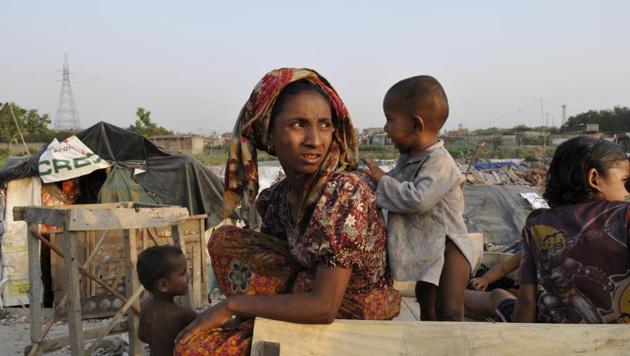 Updated on Feb 03, 2017 05:55 PM IST
On the Rohingyas issue, both the Myanmar military and Aung San Suu Kyi, currently in a fragile partnership in Yangon, are on the same page. But events of the past few months indicate the crisis has entered a new phase.
"India's position is that this is an internal affair of Myanmar," says K Yhome of the Observer Research Foundation. New Delhi has maintained a cautious stance on the issue but not made any official pronouncement since the renewed conflict in Rakhine over the past few months.
HT talks to Meenakshi Ganguly, South Asia director of Human Rights Watch, which has been tracking the situation in northern Rakhine.
What is HRW's assessment of the crisis in the Rakhine state? Could you tell us a little about the scale of violence and violations?
On October 9, 2016, Rohingya militants attacked government border guard posts in northern Rakhine State. Burmese security forces retaliated by inflicting horrific abuses on the Rohingya population including a campaign of arson, killings, and rape. Nearly 30,000 have been displaced according to the UN, and many of them have now escaped to Bangladesh.
Refugees in Bangladesh described witnessing soldiers murdering their relatives and neighbors, even killing children. Their homes were burnt and they are in desperate need of medical and other humanitarian assistance. There are horrifying accounts of sexual violence.
The Burmese government has the responsibility to respond to the security threat by militant groups, and to prosecute criminals. But it cannot permit the military to engage in a collective, racist punishment of the entire Rohingya community. Instead of denying that abuses occurred, shielding a military that has a long history of abuse including against her party supporters, Aung San Suu Kyi and her government should call for an independent investigation, punish soldiers if that have raped Rohingya women, killed children, and committed other serious violations.
Read | Persecuted in Myanmar, Rohingya Muslims find new home in Jammu
The Myanmar govt accuses human rights organisations of being one-sided and unfair in its critique. What would be your response?
The present democratically elected government in Myanmar inherited an ongoing situation in Rakhine state, where the Rohingya have previously come under attack. Many in Myanmar refuse accept the Rohingya and other Muslims as Burmese nationals. The Rohingya have been fleeing these abuses for a number of years. Bangladesh says it is already hosting half a million Rohingya refugees, most of them unregistered. A large number have also sought refuge in India. There are awful accounts of desperate refugees making perilous boat journeys to hunt for sanctuary. In fact, Aung San Suu Kyi's party, after it won elections and took office, announced a commission led by Kofi Anan to help resolve this issue.
However, after the recent militant attacks on Oct 9 and Nov 3, there are serious allegations of summary killings, sexual violence, torture, arbitrary arrests, arson, and other abuses against Rohingya villagers in Maungdaw district, which was declared "operation zone" to search for the attackers and weapons that were robbed by the militants. The government has disappointingly responded engaged in denying these abuses, and restricting access to journalists and human rights monitors to block impartial information gathering.
Denying a problem does not mean that it will disappear. A history of injustice and human violations, refusing citizenship rights to the Rohingya community, will lead to a festering problem. Myanmar has witnessed a glorious return to freedom from an oppressive military rule. The new government should not allow the military to persist with its abuses. This is an opportunity to reconcile, create a society that celebrates diversity, and adopts inclusive policies towards ethnic and religious minority groups.
Read | Rohingyas: It's a case of State policy-feeding terror
Do you think India has a role in this crisis and what would you like Delhi to do?
Indian foreign policy is rooted in a basic understanding that it cannot ignore its neighbors. Earlier, after the military took control, placed Aung San Suu Kyi under house arrest, and threw her supporters in jail, the Indian government protested publicly, even refusing to engage with the junta for a number of years. Numerous democracy activists were in exile in India-- some of them under the protection of NDA leader George Fernandes. There are over 50,000 Burmese refugees in India. In recent times, thousands of Rohingya have also arrived in India. As a country that hosts refugees, India should also tell Burma to end abuses which are forcing people to flee their homes.
In the past, India has led by example, showcasing its own diversity. Aung Sun Suu Kyi has strong personal ties with India. India should use its influence to encourage her government to immediately allow unfettered humanitarian access to all parts of northern Rakhine State as the United Nations and others have urged, in order to reach people without adequate access to food, shelter, health care, and other necessities. India should also ask the government to press the military and civilian authorities to urgently end abuses and grant access.
Read| 22,000 Rohingya from Myanmar fled to Bangladesh in one week, says UN
Close Story