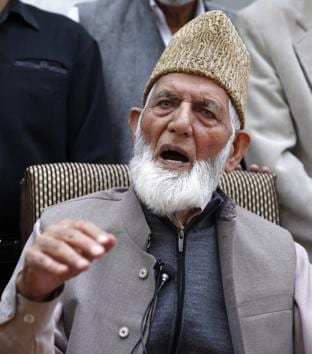 NIA grills Geelani's sons, JKLF chief's aide in terror funding case
This is the second time in a fortnight that the counter terror probe agency is grilling Geelani's sons.
Indo Asian News Service, New Delhi | By Indo Asian News Service
UPDATED ON AUG 29, 2017 08:10 AM IST
The National Investigation Agency (NIA) on Monday questioned Naeem and Naseem Geelani, the sons of hardline Hurriyat chairman Syed Ali Shah Geelani, for nine hours in connection with the ongoing probe into terror funding by Pakistan-based terrorist groups to stoke unrest in the Kashmir valley.
A NIA official, requesting anonymity, told IANS that the brothers appeared at the agency headquarters in central Delhi past 10 a.m.
Beside Geelani's sons, Ghulam Mohammad Bhatt, the cashier of Kashmiri businessman Zahoor Watali's company, Devinder Singh Behl, a close aide of Syed Ali Shah Geelani, and Noor Muhammad Kalwal were also questioned by the counter-terror agency.
Kalwal, a close aide of JKLF chief Yasin Malik, was summoned by the agency's officials on Saturday to appear before it on Monday. Kalwal was one of the five militants released after the abduction of then Home Minister Mufti Sayeed's daughter in 1989.
The agency has asked them to appear before it on Tuesday again.
On Thursday and Friday last week, the NIA had questioned Geelani's sons for over seven hours.
This is the second time in a fortnight that the counter terror probe agency is grilling Geelani's sons. The agency had asked them to bring certain documents related to financial transactions that have come under its scanner.
Naeem, a doctor by profession, is seen as Geelani's natural heir, while Naseem, the younger son, works at an agricultural university in Srinagar.
On Saturday, the NIA had carried out searches at the office of the company owned by Zahoor Watali, who was arrested on August 17 in Srinagar.
During the searches, the NIA recovered several incriminating documents pertaining to Watali's financial transactions.
Watali was arrested from Srinagar, a day after the NIA searched multiple locations in the Kashmir Valley, including the businessman's office and houses of his close relatives.
Watali, a prominent businessman close to separatist leader Syed Ali Shah Geelani, was arrested on charges of acting as a conduit for passing money received from Pakistan to militants, separatists and stone-pelters in the Kashmir Valley.
On July 24, the agency arrested seven separatist leaders in connection with its probe into terror funding from Pakistan and militant groups based there.
The arrested separatists include Geelani's son-in-law Altaf Shah and Shabir Shah, Nayeem Khan, Aftab Hilali Shah alias Shahid-ul-Islam, Ayaz Akbar Khandey, Peer Saifullah, Raja Mehrajuddin Kalwal and Farooq Ahmad Dar alias Bitta Karate.
They have been booked on charges of criminal conspiracy and waging war against India.
The NIA alleges that separatist leaders were receiving money from militant leaders in Pakistan including Hafiz Saeed, who heads the Pakistan-based Jamaat-ud-Dawa and banned outfit Lashkar-e-Taiba.
Close