Ram Jethmalani dies- 'An institution in himself': Amit Shah, Arvind Kejriwal pay tributes
Ram Jethmalani dead: Home minister Amit Shah said he was deeply pained to hear about the news and said "we have not only lost a distinguished lawyer but also a great human who was full of life."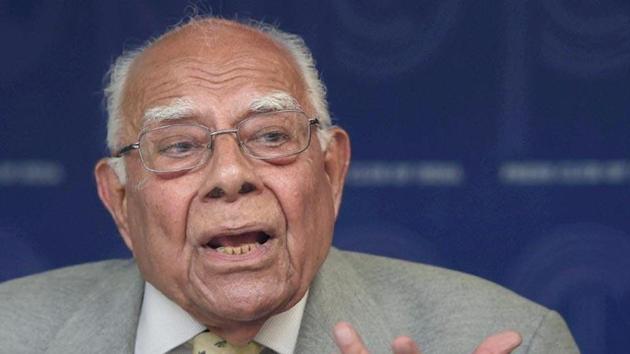 Updated on Sep 08, 2019 11:06 AM IST
Hindustan Times, New Delhi | By HT Correspondent
President Ram Nath Kovind and Prime Minister Narendra Modi led tributes after noted lawyer and former Union minister Ram Jethmalani died in Delhi on Sunday morning. He was 95.
His son Mahesh Jethmalani said Ram Jethmalani was had not been keeping well for a few months.
President Kovind said with the death of Ram Jethmalani "the has lost a distinguished jurist, a person of great erudition and intellect." "Saddened by the passing of Shri Ram Jethmalani, former Union Minister and a veteran lawyer. He was known to express his views on public issues with his characteristic eloquence. The nation has lost a distinguished jurist, a person of great erudition and intellect," the President tweeted.
Condoling the death of Ram Jethmalani, vice-president M Venkaiah Naidu said the country has lost a great intellectual and a patriot. "Deeply saddened to learn about the demise of Shri Ram Jethmalani ... one of the brilliant minds of Bharat. In his passing away the nation has lost a distinguished jurist, a great intellectual & a patriot, who was active till his last breath," the vice-president's secretariat tweeted.
Prime Minister Modi said India has "lost an exceptional lawyer and iconic public figure who made rich contributions both in the Court and Parliament".
"One of the best aspects of Shri Ram Jethmalani Ji was the ability to speak his mind. And, he did so without any fear. During the dark days of the Emergency, his fortitude and fight for public liberties will be remembered. Helping the needy was an integral part of his persona," the Prime Minister posted on Twitter.
"I consider myself fortunate to have got numerous opportunities to interact with Shri Ram Jethmalani Ji. In these sad moments, my condolences to his family, friends and many admirers. He may not be here but his pioneering work will live on! Om Shanti," he tweeted.
Also read: Lawyer to Union minister: Life and career of Ram Jethmalani
Home minister Amit Shah also said he was deeply pained to hear about the news of Ram Jethmalani's death. "In him, we have not only lost a distinguished lawyer but also a great human who was full of life," Shah said.
Delhi chief minister Arvind Kejriwal, who was represented by Jethmalani in court in the defamation case filed by former Union minister Arun Jaitley, said he was an institution in himself.
"Extremely saddened at the passing away of legendary lawyer Ram Jethmalani ji. An institution in himself, he shaped criminal law in post-independence India. His void would never be filled and his name will be written in golden words in legal history," Kejriwal tweeted.
Attorney General KK Venugopal said with the passing away of noted jurist Ram Jethmalani, the country has lost its finest lawyer who was bold and handled the most sensational criminal cases and constitutional matters. "His passing away is a great loss not only to the Bar in the country but also to Parliament and the country as a whole," Venugopal told PTI.
"According to me, he was a lawyer, was larger than life handling the most sensational cases, especially criminal cases as I, therefore, told him once that he is a leader of the criminal Bar of the country. His retort was, 'I am also the no. 1 constitutional lawyer'. This is because he was handling cases across the board," Venugopal said.
Uttar Pradesh chief minister Yogi Adityanath also tweeted his condolence. "Deeply saddened to hear about the demise of former Union Minister and noted legal luminary of the country Shri Ram Jethmalani Ji. My thoughts and prayers are with bereaved family (sic)," Adityanath posted.
Union minister of state for railways Suresh Angadi also mourned the passing of Ram Jethmalani. "Deeply pained to learn about the demise of Shri Ram Jethmalani Ji, former union minister, noted lawyer, intellectual and a great parliamentarian," Angadi said.
BJP leader and former chief minister of Rajasthan Vasundhara Raje was also among those who condoled Ram Jethmalani's death. "From notable contributions to national movements and to nation building, Shri Jethmalani ji was a stalwart who will inspire generations to come. I convey my sincere condolences to the bereaved family. Thoughts and prayers (sic)," Raje tweeted.
Close Story