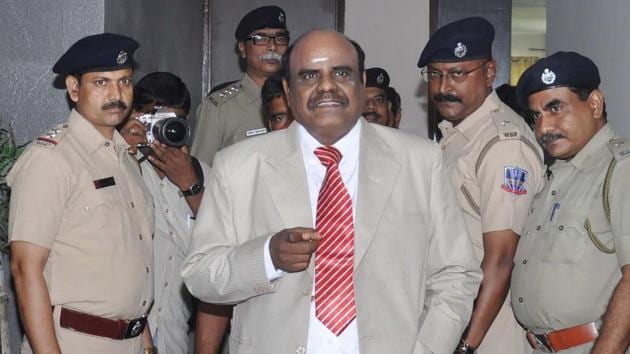 Calcutta HC's Justice Karnan gets 6 months in jail for contempt
Justice CS Karnan, 59, is the first sitting HC judge to be convicted of contempt and sent to prison. A seven-judge bench led by Chief Justice of India JS Khehar passed the order.
UPDATED ON MAY 09, 2017 10:34 PM IST
The Supreme Court sentenced a high court judge to six months in prison on charges of contempt on Tuesday, a first for a serving judicial officer in what has been an unprecedented face-off in the upper judiciary over alleged corruption.
The move against Justice CS Karnan of Calcutta high court came after a months-long, and sometimes farcical, standoff with the top court that saw the two sides issuing a string of orders against each other.
Karnan's arrest orders came a day after he sentenced Chief Justice of India JS Khehar and six other judges of the Supreme Court to five years in jail under the SC/ST act.
"We are of the unanimous opinion that Justice CS Karnan has committed contempt of this court, of the judiciary as also the judicial process...of the gravest nature," a seven-judge bench led by Chief Justice JS Khehar said.
The court also ordered the media to keep away from reporting anything on him.
Shortly after the SC order, Karnan arrived in Chennai and checked into a government guest house opposite the Chepauk cricket stadium. A police team from Kolkata is expected to arrive in the Tamil Nadu capital on Wednesday to arrest him.
The controversy began in January when Karnan wrote to Prime Minister Narendra Modi to order an investigation against judges of the Madras high court and the apex court of corruption.
On February 8, the Supreme Court found him in contempt. He was asked for an explanation but he repeatedly ignored the orders of the court. On March 10, the court issued a bail-able warrant and took away judicial work from him.
He rejected the warrant and accused his colleagues and seniors of caste bias, saying he was being singled out for being a Dalit.
This was followed by a string of tit-for-tat orders by the top court and Karnan, who remained defiant and continued to address the press and issue diktats from his Kolkata home.
Earlier this month, the SC ordered Karnan to appear before a medical board for a mental health evaluation but the 61-year-old judge refused to comply.
Given that Karnan retires next month, some senior lawyers arguing the case urged the court to either send him to jail only after he relinquishes office or drop the contempt proceedings altogether because it brings a bad name to the judiciary.
But the top court retorted: "Contempt is contempt...it has no colour. Whether you are a common man or a judge it doesn't matter."
Legal experts were divided over the action against Justice Karnan.
Advocate Prashant Bhushan welcomed the order. "Glad SC finally nailed Karnan for gross contempt of court. He made reckless charges on judges & then passed 'absurd' orders against SC judges!" Bhushan tweeted.
But, senior advocate Rajeev Dhawan called the exercise a farce, saying the top court should not have done what it did.
(With inputs from HT Correspondent, Chennai)
Close