The photo-op man: Is Sasikala Natarajan's husband a force to reckon with in TN?
Is Natarajan really a force to reckon with in Tamil Nadu politics? Is he the mastermind driving Sasikala?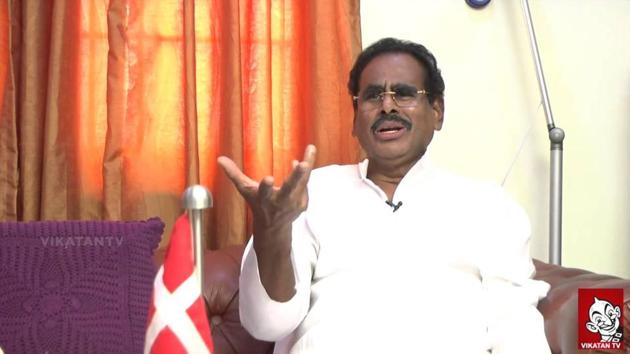 Updated on Dec 21, 2016 08:09 PM IST
Grist Media, Chennai |
Sandhya Ravishankar
A mournful look in place, M Natarajan sat close to the body of the late Tamil Nadu chief minister J Jayalalithaa, maintaining a stoic, daylong vigil at the Rajaji Hall, Chennai on December 6, 2016. With no official standing in the party, he was seen accepting condolences paid by the visiting VIPs, earning him the ire of the All India Anna Dravida Munnetra Kazhagam (AIADMK) cadre and staunch voters of the ruling party.
Later in the day, as Congress vice-president Rahul Gandhi arrived to pay his last respects, Natarajan was firmly ensconced with the Congress top brass - Gandhi, State Congress President Thirunavukkarasu and former Union Minister Ghulam Nabi Azad. The four even shared an infamous moment of mirth between them even as the body of Amma, as Jayalalithaa was known, lay in state.
These two incidents are typical of Natarajan, a nondescript man of average build in his late 60s or early 70s, who is always seen in a white shirt and white veshti. The man who married Sasikala but disowned by her in favour of Jayalalithaa, with whom she lived in Amma's Poes Garden residence. Natarajan loves to be photographed with 'important' people and feed the impression of possessing more power than he actually wields.
He currently lives in Besant Nagar, Chennai, close to the beach, in an independent house crammed between similar dwellings. Ask anyone --- isthiriwalah or autorickshaw driver or a resident in the posh Kalakshetra Colony where he lives --- and you get an immediate, "Which Natarajan? Sasikala?" When you nod, impeccable directions are issued to the house of the dubious quasi personality who lives in their midst. He has his own security men who quickly slammed the mechanised gate shut as they saw this reporter approach.
No one will speak on record about Natarajan now. Since the passing of Jaya and the emergence of Sasikala as the new power centre in the AIADMK, he is simply watched - he is never commented upon vocally. Everyone this reporter spoke to insisted on anonymity. "We don't want trouble," was the refrain. But the anticipated trouble was not from Natarajan: it was from his powerful wife Sasikala.
A veteran journalist who has interacted with the man a number of times recounts with some amusement how Natarajan would invariably have a photo album ready at hand. "He would call me often during the early 2000s," said the Chennai-based reporter. "He wanted to meet me frequently. He would drop hints at giving me inside information about Poes. But all he did was to show me his photo albums," he chortled.
These albums contained pictures of Natarajan with almost every conceivable leader he managed to cross paths with. "There were pictures of him with MGR, Karunanidhi, Mayawati, Thirumavalavan … everyone," laughed the journalist.
This photo-op obsession was doubly painful to the listener what with the steady name-dropping that came with it, according to another senior journalist in Chennai, who has met Natarajan a number of times. "He spoke as if he knew everyone and everything," said this journalist. "He would say atrocious things. No one could really believe him, but no one could disbelieve him completely either!"
An NDTV interview of Natarajan in 2014 illuminates this side of him clearly. Here, he claims to have tutored Jayalalithaa on which officials to pick as Chief Secretary, Home Secretary and other important posts in 1991, when she first became Chief Minister.
"NDTV: After the 1991 election, Jayalalithaa came to power and became chief minister. How closely were you involved in the decision-making process, as is alleged?
Natarajan: Since Jayalalithaa and all ministers were new for the administration except few ministers who had worked under MGR... all of them were new... therefore I as an officer served under the government for 20 years, I had access to information and officials with whom I had worked, therefore I was able to pinpoint to the good people. I indicate, which she accepted honourably because she had no other option. At that time she had no access, now she is well-versed with everybody.
NDTV: Who did you recommend?
Natarajan: Even the Chief Secretary. That was my suggestion. I set one theory, if not directly to her, through my wife and my family. I drew a triangle --- the chief secretary, the private secretary and the home secretary. These three are vital. These three had to be different people who should not be allowed to come together. If they did, they will rule, but if you keep them under control, you will rule."
Young journalists who met Natarajan at various events would invariably receive keen scrutiny and an offer to "meet later" as he had "a lot of important information" to pass on.
This trait of Natarajan's is perhaps due to his background as an Assistant Publicity Officer with the Information and Publicity Department at the Cuddalore district, a government job he wrangled from then Chief Minister M. Karunanidhi of the Dravida Munnetra Kazhagam (DMK) by positioning himself as a student leader during the anti-Hindi agitations of the 1960s.
Born in Vilar village, Thanjavur, Natarajan married VK Sasikala in 1973 who later went on to run Vinod Video Vision, a video rental and recording business in Cuddalore district. In the mid-1980s the couple came to the notice of Jayalalithaa, an upcoming star in the AIADMK as its Propaganda Secretary and a protégé of then Chief Minister M.G. Ramachandran, at an event held in Cuddalore where she was to address a gathering. Natarajan and Sasikala ensured that the event was well covered and the then South Arcot Collector, VS Chandralekha, is said to have introduced Sasikala to Jayalalithaa. The two became firm friends.
In the late 1980s, the couple moved into Jayalalithaa's home in Chennai. While Natarajan credits himself with playing an important part in the 1989 merger of the two factions of the AIADMK following MGR's death, not much evidence is actually available as to whether he did in fact play that role.
What is certain though, is that once he and Sasikala moved into Jaya's home, power play inevitably followed. By his own admission to NDTV in 2014, Natarajan became a power broker of sorts, using his perceived clout with Jayalalithaa to make money. "See, money for anybody who are coming to power, behind the leadership or behind the political force, many people will come to help you. For instance, I can borrow easily from the bank. Over a call I get somebody to give money. Like that it started," he told NDTV.
Natarajan is rumoured to own a medical college in Uttar Pradesh, thanks to his proximity to the late Kanshi Ram. He is also said to surround himself with a loyal coterie of dodgy reporters happy to publish 'leaks' about people Natarajan is not fond of. Money, it is said, usually follows the 'leaks'.
In 1989, police found a letter in Natarajan's house during raids initiated by the DMK government - a purported resignation letter of Jaya as MLA -- which was used by the ruling DMK to create confusion within the rival party. A Privilege Motion in the State Assembly that ensued over the letter turned into unprecedented chaos where Opposition leader Jayalalithaa was manhandled and Chief Minister Karunanidhi's glasses broken.
Natarajan's golden run did not last and by 1996, he was turfed out of Poes Garden. "He was using Jaya's name to make money, get things done and collecting money from [poll] candidates," said a senior AIADMK leader who did not wish to be named. A series of cases were filed against Natarajan in 2011 - assaulting a constable, duty evasion while importing a Lexus car, cheating an aspiring election candidate out of a ticket after collecting money, besides land grabbing charges. No one is certain as to what happened to any of these cases.
In the interview with NDTV in 2014, Natarajan stated that Jayalalithaa had not cut ties with him but that he had made the snap himself.
But earlier, in an October 2013 interview to the Tamil magazine Ananda Vikatan, he had said the exact opposite. "Amma herself had announced that I am not in the party. I am not a spokesman for the AIADMK. I am not its General Secretary either. I don't have any need to promote the party. That is why I said the shackles have broken. At one time I was with them; I lived with them. At one point of time I used to think that I have done a lot for them, so there is a bond, a relationship with these people. When they themselves have said there is nothing, I agreed - I said yes, the shackles on my feet have broken," he said.
In 2011, he decided to jump into the hot Sri Lankan Tamil cause, positioning himself as a champion of the Eelam Tamils. His attempts, along with Pazha Nedumaran, another pro-Tamil activist, to build a memorial in Thanjavur for the victims of Mullivaikal in Sri Lanka, the last battlefield against the LTTE (Liberation Tigers of Tamil Eelam), landed in trouble. The memorial was inaugurated in November 2013 but the
Government demolished part of the compound wall, which it saw as encroaching the National Highways property.
The year 2011 was not good for Sasikala either, who also found herself out of favour along with other members of her family. Jayalalithaa issued a statement asking party cadre not to have any association with Sasikala, Natarajan or any member of the family, now notorious as the Mannargudi clan. No explanation was given for this sudden expulsion but insiders spoke of conspiracies being hatched by Sasikala's family, including Natarajan, to do away with Jaya and take control of the party and the Chief Minister's chair. Audio-taped conversations amongst family members at Bengaluru were said to have been given to Jayalalithaa, following which Sasikala and the kin were unceremoniously booted out.
A few months later, however, an emotional letter to her 'sister' Jaya, in which Sasikala disowned her family, allowed her re-entry into the high gates of Poes Garden. "Not even in my wildest dreams have I thought of betraying akka (elder sister)," wrote Sasikala in the letter. "For 24 years I have been living under the same roof. I have no ambitions either in the party or in the government. I have always devoted my life to akka and the rest of my life will be to serve her."
She further stated, "Only after coming out of Poes Garden, I became aware of the machinations of my relatives who have misused my proximity and brought disrepute to akka and the party. I have no role whatsoever in that. Hereafter, any relative, whosoever it may be, who had conspired against akka will remain persona non grata for me as well," she said.
In the meanwhile, Natarajan, banished to his Besant Nagar abode, continued his attempts to grab as much attention as he could. His time came finally, though briefly, at Jayalalithaa's passing. He even ensured that he set tongues wagging again by giving an interview to news channels immediately after the funeral. "Even an ordinary person can take the party forward," he declared. "There is no vacuum in the party. As long as there is MGR's and Amma's popularity, AIADMK will continue to survive. When MGR was laid to rest at the same place, when we were deciding on who will be the next leader...there were many important leaders…We decided that Amma has the eligibility or quality to take the party to the next level. We knew she will lead the party for 25 years. But she led the party for 28 years and carried forward MGR's legacy," he added, hinting again at having been a mover and shaker in the historical course of Tamil politics.
Is Natarajan really a force to reckon with in Tamil Nadu politics? Is he the mastermind driving Sasikala? "The relationship between the couple is almost non-existent," said a political analyst who, again, did not wish to be named. "Sasikala is not fond of him. She is the one with the power and he piggybacks on that. But with Sasikala holding the reins now, we can definitely expect him to get richer in the next four years!"
Natarajan was not available for comment, despite this reporter repeatedly trying to reach him. The Besant Nagar gates remained obstinately closed. "Ayya will call you if he decides to speak to you," was the constant refrain from his security guards. But one thing is sure: he is waiting and watching to see how his wife's political career unfolds as she emerges from Jayalalithaa's shadow.
(In arrangement with Grist Media)
Close Story
Personalise your news feed. Follow trending topics