Union minister Ashwini Choubey's 'Biharis crowding AIIMS' remark draws criticism
Media reports stated that the MoS for health also said he had instructed the director of AIIMS, Delhi to turn away such patients.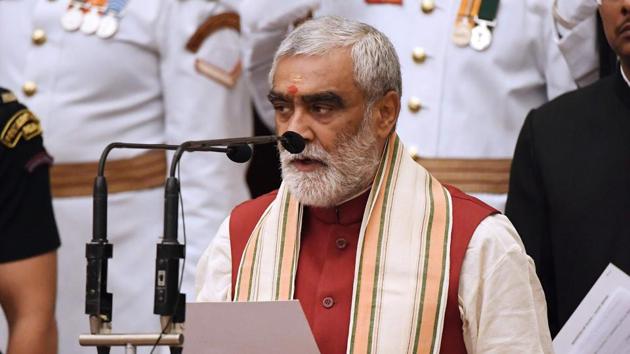 Updated on Oct 10, 2017 10:43 PM IST
Press Trust of India, Patna |
Press Trust of India
Union minister Ashwini Choubey's reported remark about Biharis "crowding" AIIMS, Delhi even for "minor ailments" on Tuesday drew criticism from rivals and ally JD(U), with chief minister Nitish Kumar saying it is the duty of MPs to take care of their constituents going there for treatment.
"People of Bihar are unnecessarily crowding AIIMS, Delhi even for minor ailments which can be treated at home," media reports quoted Choubey as having told a function here last Sunday.
The Union minister of state for health had also reportedly said he had instructed the director of All India Institute of Medical Sciences (AIIMS) to turn away such patients.
Choubey's reported remark kicked up a controversy back home.
Chief Minister Nitish Kumar, without naming Choubey or referring to his statement, said it has been the duty of every MP from Bihar to take care of people from their constituency visiting the national capital for treatment at the hospital.
"This has been a basic responsibility of every MP from Bihar to attend to people coming from their constituency for treatment at AIIMS," Kumar told a health department function.
He said he used to keep an assistant who would accompany patients to AIIMS so that they were not inconvenienced. Kumar, a former Union minister, represented Barh and Nalanda Lok Sabha constituencies four times in the past.
"If a patient was serious, I would myself talk to the doctor concerned or visit AIIMS to see him. During such visits I used to see a large number of people from Bihar thronging AIIMS for treatment," Kumar said.
The chief minister said health facilities have improved in Bihar and now people are going to AIIMS, Delhi "out of choice" and not compulsion.
Choubey's remarks had prompted Tamanna Hashmi, a Muzaffarpur-based social activist, to file a complaint against Chaubey in chief judicial magistrate's court on Monday.
The RJD and Congress latched on to the minister's reported remarks to attack the BJP.
"Citizens of Bihar feel insulted by the minister's remarks," senior Congress leader and AICC member Prem Chand Mishra said.
RJD vice president Shivanand Tiwari said the minister was talking "rubbish".
However, Choubey's party BJP came to his defence, with Deputy Chief Minister Sushil Kumar Modi saying his comments were misinterpreted.
"What he (Choubey) intended to say is that efforts are being made to improve the facilities available in Bihar to such an extent that the necessity to rush to other places for better medical treatment was minimised," he said of the Union minister, who represents Buxar seat in the Lok Sabha.
Close Story
Personalise your news feed. Follow trending topics