UP: Daughter kidnapped, five family members attempt self immolation to protest
Published on Feb 02, 2017 12:52 AM IST
Five members of a Badaun-based family attempted self immolation in front of Vidhan Bhawan on Wednesday, alleging police inaction against a local politician's aide who allegedly abducted their minor daughter nearly five months ago. The girl has still not been traced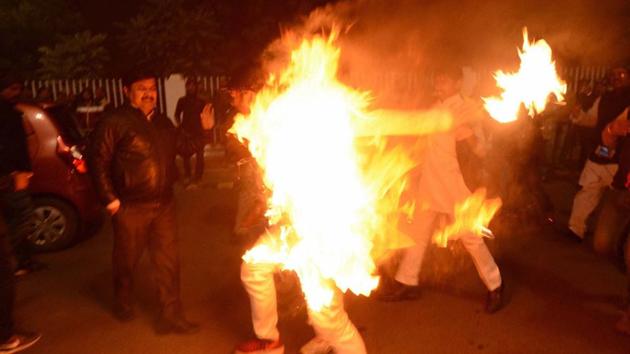 Five members of a Badaun-based family attempted self immolation in front of Vidhan Bhawan on Wednesday, alleging police inaction against a local politician's aide who allegedly abducted their minor daughter nearly five months ago. The girl has still not been traced.
Police deployed at Vidhan Bhawan foiled their suicide bid.
The protestors included Rajveer Singh, his wife Kamta Devi, their two children , and their sister-in-law, Tulsa — all residents of Musaghat, Badaun. The family was rushed to the civil hospital and sent to Badaun with assurances of action in the case.
Singh's eldest daughter was allegedly abducted by the nephew of SP leader Omveer Singh Yadav on August 13, 2016.
The family had lodged an FIR against the accused at the Musabagh police station, accusing him of kidnapping her and compelling her to marry him.
Rajveer Singh alleged that the accused was close to politicians and the local police weren't acting against him.
Rajveer Singh and his family had attempted to end their lives in front of the Vidhan Bhawan on December 29 as well. At that time too, they were protesting alleged police inaction in the case.