In a first, a sanctuary for cows to come up in Bikaner district
Rajasthan is the second state in the country to have a dedicated ministry for cow husbandry after Madhya Pradesh. The sanctuary is expected to give boost to the state's economy by creating new job opportunities, increasing milk and biogas commerce besides promoting cow tourism (through an increased buyer-seller traffic and import of healthy breed cattle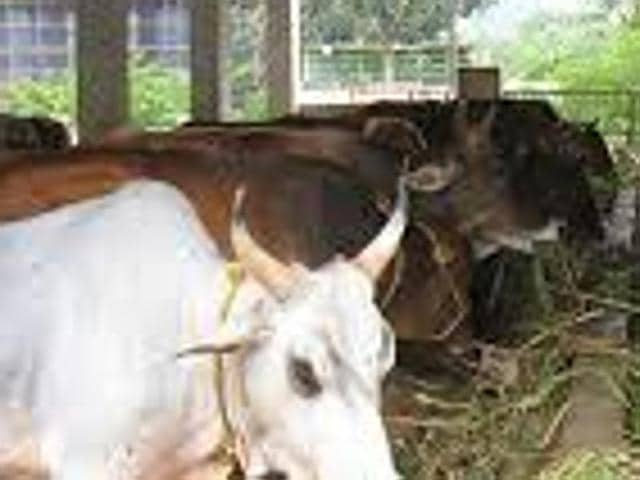 Updated on Jan 22, 2016 08:19 AM IST
The Rajasthan government has decided to set up its first cow sanctuary in Bikaner, also known as the Denmark of India, to boost multiple economic activities along with cow tourism in the state, Gaupalan minister Otaram Dewasi said on Thursday.
Rajasthan is the second state in the country to have a dedicated ministry for cow husbandry after Madhya Pradesh. The sanctuary is expected to give boost to the state's economy by creating new job opportunities, increasing milk and biogas commerce besides promoting cow tourism (through an increased buyer-seller traffic and import of healthy breed cattle), he told HT over phone.
The sanctuary, which is the brain child of cattle protection activist Surajmal Singh Neemrana, is likely to be set up near Amarpura village, about 70 km from Bikaner near the Indira Gandhi Canal. The Gaupalan department has asked the Bikaner district collector to identify land to set up the sanctuary. Sources said the district had about 50,000 bighas of land near the canal with dense trees, which is an ideal place for raising healthy cattle. However, a final decision will be taken after due process.
Dewasi said that the plan was afoot to set up such cow sanctuaries at every divisional headquarters in the state in the next phase. He said, "We will be able to care and serve over 50,000 cows and it will be increased up to 1.5 lakh in Bikaner only."
The cow, apart from being revered, is also a major source of livelihood for the people.
The Bikaner district also has the largest population of cattle which is about 906075 as per 19th livestock census of 2012 in Rajasthan. The proposed sanctuary is planned to facilitate the ward animal and save the indigenous breed. This will also help the state to reduce the migration of people and animals during tough drought sessions.
The Gaupalan department has received two proposals from welfare societies for the handling and maintenance of the sanctuary. Convenor of Surbhi Gau Abhyaranya Samiti Surajmal Singh Neemrana said the step would open new avenues in the state's western region in the fields of cattle conservation and employment.
Close Story