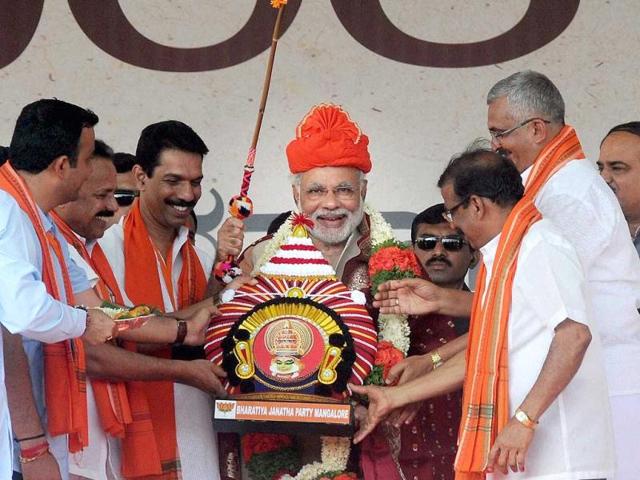 Modi takes over Advani's rath to get Dalit votes
BJP's UP in-charge Amit Shah has claimed it would be a BJP vs BSP fight in the state and the Modi magic would 'help the BJP emerge as the single largest party in UP, at least 20 seats ahead of BSP'. Ground prepared for Modi in Varanasi, Rajnath in Lucknow | Full Coverage
UPDATED ON MAR 08, 2014 03:35 PM IST
The temple issue is in cold storage, but the BJP rath is all set to roll in UP, this time to storm the staunchest bastions of the BSP and the SP, the most backward segments.

Around 400 "chariots" would carry the Modi message to the rural poor in the remotest hamlet, their theme music, "Har har Modi, ghar ghar Modi" a subtle nod to the Hindutva agenda.

Read:Waters muddied, BJP's only hope a Modi wave
Already, 19,000 villages have been identified in eastern UP. The raths — mini vans draped in saffron, fitted with large LED screens and Modi's trademark hi-tech audio system — have already queued up in Lucknow.

Besides talks by local party workers, they are expected to play excerpts from speeches by Modi and party chief Rajnath Singh before assembled crowds.
Read:Modi, Mulayam cross swords; Kejriwal guns for both

While Modi has been assiduously playing up his humble beginning as a "tea seller", Singh had been identified as a farmer leader and champion of backward classes during his days as the state's CM. The 'rags to political riches story', the party hopes, will ensure a connect with the target audience – the backward classes, who have so far been divided in their support.
BJP's UP in-charge and Modi confidante Amit Shah has claimed it would be a BJP versus BSP fight in the state and the Modi magic would "help the BJP emerge as the single largest party in UP, at least 20 seats ahead of BSP".

Read:Modi attacks Mulayam over lawlessness in Uttar Pradesh
"It is clear that a majority of BSP supporters would be found in these remote, backward villages where these raths are expected to travel to," said veteran political analyst Rajnath Singh 'Surya.'
The Congress sees the raths as a BJP ploy to rekindle the temple sentiment. "Each time their leaders climb a rath, it signals their intention to polarise the society. They now want to create trouble in rural areas," said UP Congress secretary Devendra Pratap Singh.

Read:South to north, how Modi is helping NDA win allies
"Ever since temple issue lost its political utility, the BJP's graph started sliding. Now, the saffron brigade is desperate to recreate the same tension, the same polarisation for political gains."The Samajwadi Party government's Muslim face Azam Khan seconded the opinion. "The BJP would be trying to ensure division in society. They are masters of divisive politics."

Full Coverage: The rise of Modi | Ground prepared for Modi in Varanasi, Rajnath in Lucknow
Close