Rahul Gandhi blames PM's 'attitude' for Faridabad Dalit killings
Hindustan Times |
, Faridabad
HT Correspondent
Oct 21, 2015 03:07 PM IST
Congress vice-president Rahul Gandhi on Wednesday met the family of the victims of an alleged caste feud in Sunpedh, a village in Faridabad.
Congress vice-president Rahul Gandhi on Wednesday accused Prime Minister Narendra Modi, the Haryana chief minister, BJP and RSS of practicing the "politics of crushing" those who are weak and poor.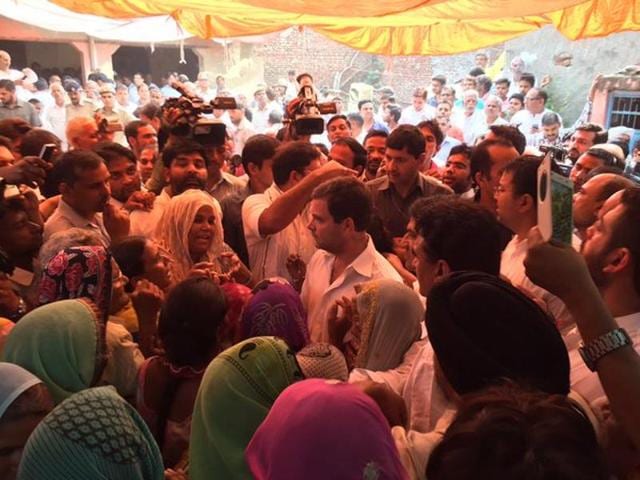 Gandhi made the remarks while visiting the family of two Dalit children who were burnt alive, allegedly by members of an upper caste community at Sunperh village in Faridabad district of Haryana.
He said the father of the dead children had told him they were killed for no fault of their own. Their only fault is that they are poor and weak.
Two-and-half-year-old Vaibhav and his nine-month-old sister Divya died when upper caste men allegedly poured petrol on the house and set it ablaze while the family was sleeping inside early on Tuesday.
Their mother Rekha, 28, suffered serious burn injuries during the attack in Sunperh, a village located near Delhi. Their 31-year-old father Jitender Kumar too sustained burns while trying to save his family.
Read | Burning of Dalit family: Ballabgarh has history of caste violence
Gandhi blamed the attack on the "attitude" of Modi, saying if someone is weak, they can be crushed. "What you are seeing is the result of this attitude," he added.
He said the Haryana government is not the "government of the weak".
Asked whether he was indulging in politics over the incident, Gandhi angrily retorted: "This is insulting when someone says it when someone comes here. It is not insulting to me. It is insulting to these people. What is a photo op? What you mean? People are dying. I will keep coming to such places."
Dalits, including children, blocked the Faridabad highway on Wednesday and demanded stringent action against those responsible for the attack.
Eleven people, including a father and a son, have been booked for murder, rioting and other charges following the attack, a police spokesman said.
(With inputs from PTI)