Trupti Desai: The woman spearheading Shani Shingnapur protest
Jan 29, 2016 07:19 PM IST
Despite her agitation being stalled, Trupti Desai is adamant on seeing her protest through.
Trupti Desai is deeply religious. Yet, she was furious last November when priests of Maharashtra's Shani Shingnapur temple 'purified' the main idol after a woman had sneaked onto the platform where the deity is placed.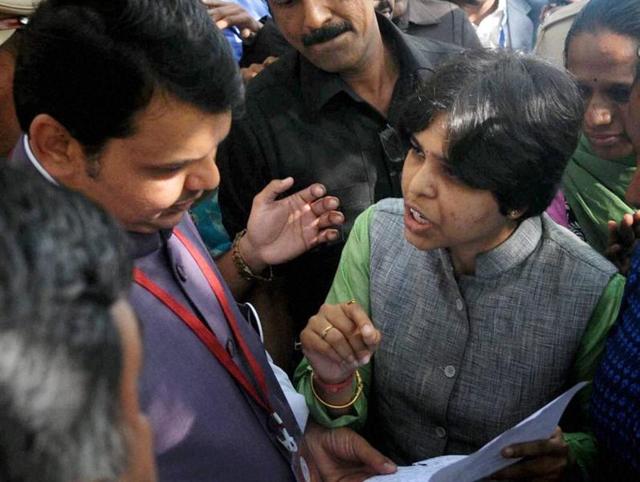 Unable to accept that women are still barred from entering the sanctum sanctorum of the famous temple, Desai attempted to do go there herself with a handful of supporters on December 4. Stopped by villagers then, she returned earlier this week with hundreds of members of her Bhumata Brigade to break the gender barrier. They failed once again, this time blocked by the police, but not before catapulting both the age-old tradition and Desai into national limelight.
Mother of six-year-old Yogiraj, Desai first hogged the headlines in 2008 when she led a motley crowd of women to gherao the then cooperative minister Parangrao Kadam, demanding a probe into alleged financial irregularities at the Ajit Coooperative Bank. So impressed was the minister that he offered Desai a ticket in the next civic elections. Desai took it up and contested as a Congress candidate from Balaji Nagar ward in 2012, but lost. Desai though has not ruled out entering politics in the future.
Before that, the home science graduate changed course of her crusade and founded the Bhumata Brigade in 2010. The next year, she participated in Anna Hazare's anti-corruption movement.
However, despite her activism, Desai's husband Prashant says his wife is extremely spiritual. "She and her entire family are disciples of Gagangiri Maharaj and follow all the religious rituals."
So what made her vehemently contest the centuries-old tradition at Shani Shingnapur?
"When Trupti saw on television that the temple trust 'purified' the deity with milk after a young woman climbed the platform where an idol is installed, she was furious about women being treated unequally," said Prashant who runs Airtel franchisee and is a land dealer.
Despite her agitation being stalled, Desai is adamant on seeing her protest through. "If the government fails to act against Shani Shingnapur temple trust, the Bhumata Brigade will launch an even bigger agitation," she said.
While the movement sparked plenty of national interest, questions are being raised on how it was financed as hundreds of women reached the temple in buses while the brigade also claimed it had booked a helicopter to reach the venue. "There are social organisations such as the Chhatrapati group in Kolhapur which helped us organise buses to take women from Kolhapur and Pune to Shani Shingnapur," clarified Desai, a native of Kolhapur. The activist moved to Pune in 2005 for education and has been based there ever since.