Rawat attacks BJP over 'President's Rule threat'; Sec 144 in Dehradun
A day ahead of the trust vote for the Harish Rawat government, the state administration on Sunday imposed Section 144 in Dehradun to prevent potential flare-ups between rival political groups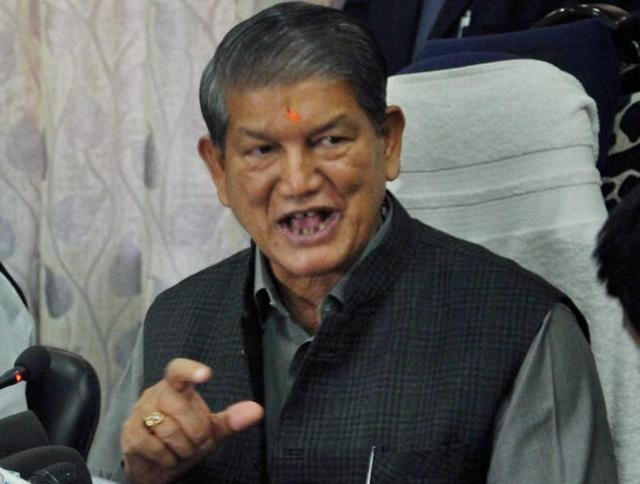 Updated on Mar 28, 2016 11:37 AM IST
Uttarakhand chief minister Harish Rawat on Sunday accused the BJP-led government at the Centre of threatening to impose President's Rule in the state "in its arrogance".
"I condemn this threat by the BJP," he said at a press briefing.
"The demand to remove the Governor is completely condemnable," Rawat said. "We have decided that we will take this issue to the public... My DNA is the DNA of the people, it is not an imported DNA like others," he added.
"If it's an internal problem of Congress, then why were the big brass of RSS and BJP here on 17th & 18th," Rawat said.
Meanwhile, a day ahead of the trust vote for the Rawat government, the district administration imposed Section 144 in Dehradun to prevent potential flare-ups between rival political groups.
Advocates of the rebel legislators met speaker Govind Kunjwal at his Vidhan Sabha office in the morning. Kunjwal may soon arrive at a formal decision on disqualifying nine Congress legislators, who joined hands with BJP MLAs over the last few weeks to attempt taking down the state government.
Sources, however, said that the decision to disqualify the rebels has already been taken in principle.
In a notice served by the speaker last Sunday, the rebel MLAs were asked to explain why they had violated the party whip and shouted slogans against the government with BJP legislators on March 18.
After the rebels are disqualified, the strength of the house will come down from 70 to 61. In this situation, the Congress may be able to cobble up a majority with the support of independents and fringe parties.
Read: Uttarakhand Congress rebels may move SC against disqualification order
Ambika Soni, Congress general secretary and in-charge for party affairs in Uttarakhand, is expected to reach Dehradun by Sunday noon. State Congress chief Kishor Upadhyay, who is also in New Delhi, is likely to come with Soni.
Sources in the BJP said that 27 of its legislators will also reach the state capital from Jaipur by noon. The Congress, which has housed the party legislators and independents in a resort near Corbett, may bring them here by Monday morning.
Eight of the nine rebels will reach by Sunday night, and security has been tightened around their residences.
Read: Journalist who 'stung' Uttarakhand CM has govt security, connections
Opposition leader Ajay Bhatt told a local TV channel on Sunday morning that the "speaker was biased against the Congress rebel legislators, and was acting against constitutional norms".
Section 144 of the CrPC empowers a magistrate to prohibit more than 10 people from gathering in an area.
Close Story