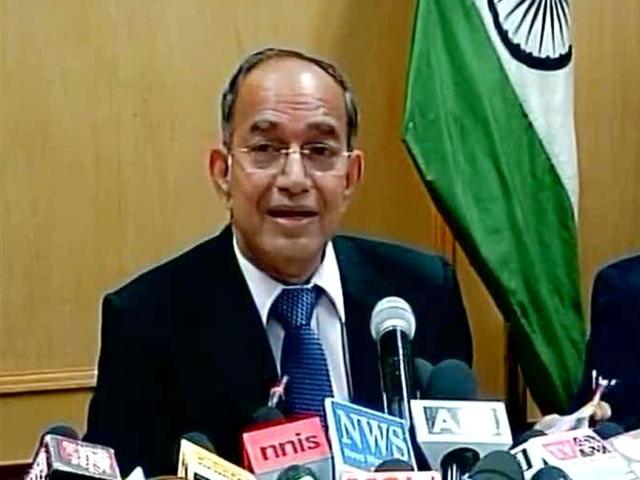 With LS poll dates out, EC is 'super-boss'
No government in India can take any decision or make an announcement that could be interpreted to give the ruling party an advantage in the poll process. For any major decision, the government needs EC's prior approval. LS polls from April 7, results on May 16
UPDATED ON MAR 06, 2014 06:29 PM IST
The model code of conduct kicked in with Wednesday's announcement of the election schedule, making the Election Commission the country's super-boss with powers to regulate the conduct of political parties, track decision-making by the government and even keep a hawk's eye over media.


Aam Aadmi Party leader Arvind Kejriwal was the first one to feel the heat. It turned out that Kejriwal hadn't taken permission from the district authorities to launch his road show, a requirement that exists in the model code of conduct.
Petroleum minister Veerappa Moily and personnel minister V Narayanasamy got away rather lightly. Moily had to cancel the foundation laying stone of a national oil exploration project, while Narayanasamy cancelled a press conference.

Read:Money power causing concern, says CEC
"Everyone (parties, leaders and the government) will have to abide by the model code of conduct from now on," said chief election commissioner Veeravalli Sundaram Sampath.
This means, that no government in the country can take any decision or make an announcement that could be interpreted to give the ruling party an unfair advantage in the electoral process. For any major decision, the government needs EC's prior approval.

Read:Special weather forecasts helped EC steer clear of inclement conditions
The commission's code also bars the media from making public opinion poll results 48 hours before polling commences. A similar ban would also be in place for publishing exit poll results till 48 hours after the last day of polling.
The nine polling days would mean that there could not be opinion polls on 27 days of the 72 day poll process. The EC has asked media regulatory bodies to come out with guidelines to regulate opinion polls.

Read:Decoding the model code of conduct
Taking in account allegations of paid news to influence voters, the election commission has also decided to set up media monitoring committees for each district to keep a close watch on this aspect.
The code also debars parties from appealing to votes on caste or communal lines and to make account of every penny spent on polls. Non submission of election expenditure is a ground to de-recognise a party and debar a candidate from contesting polls for six years.

Read:Parties claim spending much lower than EC's limit on poll expenditure

Read:Delhi election officials to launch drive to check misuse of social media

Election map: Dates with Destiny

Roll over the map to find poll dates, phases in which the poll would be conducted and total number of constituencies.
Close