RSS should be banned for fanning a sense of fear: Scientist Bhargava
Oct 29, 2015 08:44 PM IST
Eminent scientist PM Bhargava on Thursday joined the bandwagon of writers and filmmakers returning their awards saying he will give back his Padma Bhushan to protest against "the government's attack on rationalism, reasoning and science".
Eminent scientist PM Bhargava, who is preparing to return his Padma Bhushan in protest, has called for a ban on the RSS alleging it is against minorities and Dalits.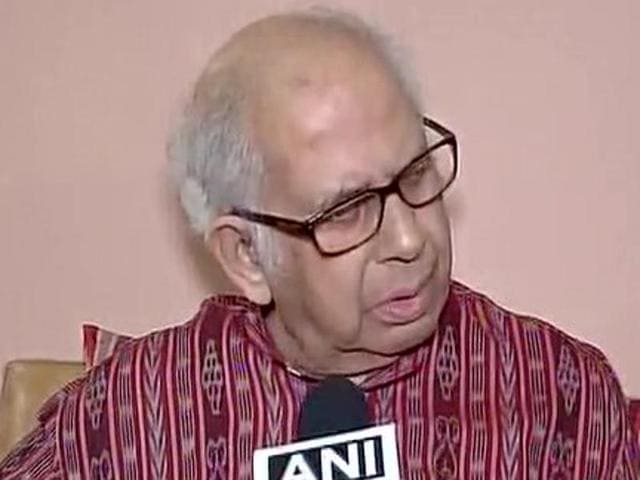 "The RSS should be banned for fanning a sense of fear among minorities and Dalits," Dr Bhargava told Hindustan Times on Thursday over phone from his Hyderabad residence.
Stay tuned with breaking news on HT Channel on Facebook.
Join Now
The 87-year-old scientist, who is set to courier his plaque to Delhi next week, received many congratulatory phone calls, and also a few abusive ones, after he announced his decision.
"The RSS chief and other Hindu organisation leaders make dangerous statements from time to time that reveal a dangerous design to rewrite the history of the country and also change the country in a manner that is not acceptable to many people," he said adding "the RSS should be banned just like some minority organisations that engineer communal strife."
Bhargava, the founder-director of the Hyderabad-based Centre for the Cellular and Molecular Biology (CCMB) was awarded the Padma in 1986. He is also a recipient of France's highest honour, the Legion d'Honneur.
"The government must change its way of functioning as it is going on a path laid by Hindu religious autocracy," he said, citing the reason for joining protest by writers, film makers, sociologists and scientists from across the country.
Read | 12 filmmakers return national awards, protest 'growing intolerance'
Asked why the protest and why now, Dr Bhargava said that over the past few months, the atmosphere in the country had deteriorated and the space for dissent, a must in democracy, was getting limited and reduced.
"The attitude towards minorities, the attitude towards Dalits and the attitude towards rationalists, all are in the wrong direction. The Dalits are made to feel they are second-rate citizens," he said.
Referring to the beef lynchings and the police action at Kerala House, he said neither the government nor anyone outside had the right to decide what people eat, wear and drink.
Bhargava pointed out that important ministers were making statements without the scientific temper envisaged in the Constitution.
Bhargava is one of the scientists who started the recent online petition, signed by more than 100 senior scientists, requesting President Pranab Mukherjee to address growing intolerance.
Read | Polarised community is like N-bomb: Scientists petition President
Jaitley: Rabid anti-BJP elements
Union minister Arun Jaitley, meanwhile again hit out against those who returned their awards, saying those who have returned awards were "rabid anti-BJP elements".
"Follow their tweets and their stances on various social and political issues. You will find a lot of rabid anti-BJP elements in them.
"I had already called it a manufactured rebellion. I stand by my phrase. And I think, the events as they are unfolding only indicate that kind of manufacturing is going on at faster speed," the minister said in Patna.
Bhargava, however dismissed his allegations, saying: "There is no grand design in this protest of mine. I have done it purely to satisfy my conscience."
"I was a very strong critic of the UPA government and in my book 'A Critique Against the Nation' had criticised the UPA government but the UPA government did not tell us what to eat, how to dress what to think or give us lessons in morality.
"The present government tells us all that which I found unacceptable...the extent of irrationality that we see in these decisions," he said.
Read more:
Perception about intolerance limited to Delhi's Lutyen's Zone: Amit Shah