IPL 2017: Gujarat Lions' Ishan Kishan rues throwing away wicket vs Mumbai Indians
May 11, 2017 08:14 PM IST
Ishan Kishan finished as Gujarat Lions' top-scorer with 48 runs in the Indian Premier League (IPL) match against Mumbai Indians. But he failed to take his score beyond 50, playing a rash shot off Harbhajan Singh.
Gujarat Lions' opener Ishan Kishan feels that had he stayed longer at the crease, his team could have posted a much bigger total for Mumbai Indians to chase in their Indian Premier League (IPL) match in Rajkot on Saturday. (Match highlights)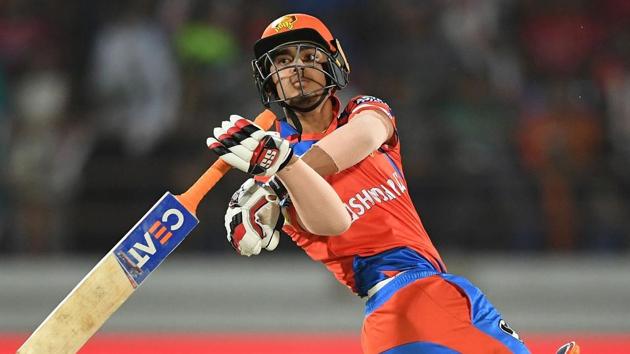 Gujarat Lions almost pulled off a thrilling win before losing in the Super Over against Mumbai Indians in the 35th match of the 2017 Indian Premier League at the Saurashtra Cricket Association on Saturday. (Match scorecard)
Ishan Kishan, who finished as Gujarat's top-scorer with 48 runs, said: "I should have stayed over there. I shouldn't have gone for that big shot (which led to his dismissal) as it was Bhajji pa's (Harbhajan Singh's) last over. I should have waited for Krunal (Pandya) or someone else (to target). If I had stayed in the middle and scored more runs, we would have posted a total of 170 or 180 runs."
Gujarat Lions were defending a low total of 153 and nobody gave them a chance. But the 18-year-old said that the team believed they could pull it off.
"Actually it was all about belief and we believed that our bowlers will do it this time," said Kishan. "Our fielding unit did very well as well. In the previous matches you must have that we were very good on the field. So, we know that we just have to put a good effort on the field and we could do this and that definitely happened in the middle," said the left-handed batsman.
While he said that team has very good fielder, the presence of Mohammad Kaif, who was one of the top fielders in the Indian team, has helped.
"I think the way we practice our fielding, it is the most important. It counted a lot in today's match. When Kaifbhai was playing, he was a superb fielder," said Kishan. So, we practice in same way as he use to during his playing days. We have very good fielders in (Ravindra) Jadeja, Brendon McCullum, (aaron) Finch and Suresh Raina and they are getting good support of youngsters as well," said Kishan, who took two brilliant catches including one in the Super Over to dismiss Jos Buttler.