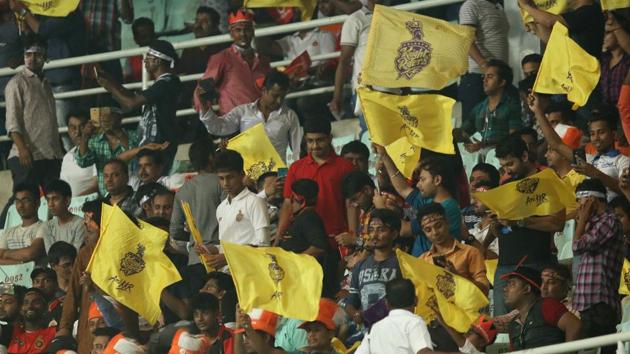 IPL 2017: 'Wenger out' amid a lot of cricket at Eden Gardens
Eden Gardens was abuzz during the Indian Premier League match between Kolkata Knight Riders and Royal Challengers Bangalore but some fans still didn't forget to show their displeasure over Arsene Wenger.
UPDATED ON APR 23, 2017 10:15 PM IST
Nearly 8000 km apart, the Eden was a cauldron heaving and throbbing like Wembley was on Sunday. Arsenal were playing the FA Cup semi-final against Manchester City but Arsene Wenger baiters here couldn't care less. As far as they were concerned, Wenger's time was up. Thank you for the memories.
Read more | Sushant Singh Rajput backs MS Dhoni, takes a dig at Sourav Ganguly
'Wenger out' was also seen at Eden on Friday when Kolkata Knight Riders (KKR) lost to Gujarat Lions but this was bigger night, one of the biggest of the 10th edition of the Indian Premier League (IPL) and some Gooners who had traded watching Ramsey for Robin, Monreal for Mills, Koscielny for Kohli and Giroud for Gambhir couldn't resist sending a message. After all, the IPL 10 is being beamed live in the UK and across the world.
The Sun newspaper wrote on Sunday that 'Wenger out' has been seen at the world snooker championships and NBA play-offs. The IPL and Eden has now been added to that list.
Sunday is usually a slow day at tube stations. But as afternoon blended into the evening on April 23, it seemed like Monday's morning hour rush had been brought forward. The underground was packed and it was obvious where most people were headed. Some were wearing the white bandana with 'KKR' emblazoned in purple, there were a few in team shirts but most didn't let support dictate sartorial choices.
Read more | Injured Dwayne Bravo out of Gujarat Lions' 2017 IPL campaign
Trains from both sides disgorged the maximum passengers at the Esplanade station and it took longer than a strategic timeout to get out and make way to the Eden. Shirt vendors were doing brisk business en route, selling fake merchandise at R 150 each.
The flags were going for R 50. By the time of the scheduled 8pm start, the 67,200-seater amphitheatre was the fullest it has been this year. Such was the roar when the covers came off at 8:04pm that those passing by would have thought the first six had been hit or the first batsman dismissed.
Read more | IPL 2017: Axar Patel, Hashim Amla guide Kings XI Punjab to win vs Gujarat Lions
With Chris Gayle, AB de Villiers and Virat Kohli, RCB are always a big draw. But it is Kohli who is the first among equals. When he rang the ceremonial bell, people jostled for position while trying to preserve the moment on their phones. It used to be like this with Sachin Tendulkar when he would come in a Mumbai Indians shirt and it is the case with MS Dhoni.
But the Eden wasn't divided on Sunday like it was on May 5, 2012. That afternoon, Sourav Ganguly was leading the away team. 'Dada' still lords it over the Eden but as president of the Cricket Association of Bengal. And with a stand named after him that glowed in all its brightness.
Close