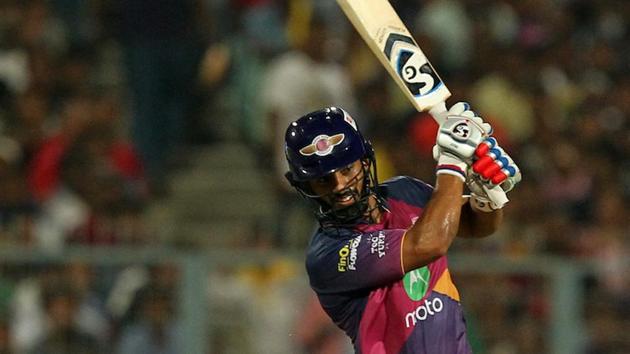 IPL, Highlights: Rahul Tripathi's 93 steers Rising Pune Supergiant to 4-wkt win over Kolkata Knight Riders, rise to third
Rahul Tripathi's 52-ball 93 helped Rising Pune Supergiant beat Kolkata Knight Riders by four wickets at the Eden Gardens. Steve Smith's men have now risen to third in IPL 2017 standings while KKR are second with 14 points. Get full cricket score of Kolkata Knight Riders (KKR) vs (RPS) Rising Pune Supergiant here.
UPDATED ON MAY 04, 2017 12:52 AM IST
Riding on Rahul Tripathi's 93, Rising Pune Supergiant beat Kolkata Knight Riders by four wickets to seal their seventh win in 2017 Indian Premier League. RPS have now climbed to third with 14 points while Gautam Gambhir's KKR are second with same number of points but due to better net run-rate. (SCORECARD | WHERE TO GET LIVE STREAMING | STANDINGS)
23:40 hrs IST: And that's it. Thank you for joining us. Until next time, it's goodbye. Cheers!
Tripathi (Man of the Match): "I was getting good starts, but I was not able to push on. Today we won also, so very happy I could contribute and bat long. I'm just trying to middle the ball, this is all new for me [ the crowd], so I'm just trying to concentrate on what I can do .Watch the ball, hit the ball is my way. I know there are areas I need to improve, but I'm just doing what I can. I hit six sixes two times in an over recently. I'm happy I'm hitting the ball well and hopefully it continues."
Smith: "Been a good little run for us, six out of seven games. Tonight was a really good team performance. We did really well to keep them to 150 and Tripathi, hasn't he been a revelation. The games we've won, we've taken wickets through the middle overs and put the brakes on the opposition. Had quite a few different guys stand up and get us over the line. Good for us. Hopefully we're there come finals time."
Gambhir: "It's a long tournament and these things happen. It was an opportunity for some of the other guys to show what they can do. Robin had a niggle, we didn't want to risk him today. Obviously, till the time you are not there in the playoffs you are not in the playoffs. We have three more games to go, and hopefully we can turn this around."
23:22 hrs IST: SIX! And that's it. RPS beat KKR by four wickets to register their seventh win in IPL 2017.
23:21 hrs IST: de Grandhomme to bowl the last over.
23:20 hrs IST: And KKR have suddenly made it interesting. RPS need 5 off 6.
23:18 hrs IST: WICKET! Tripathi c sub (Powell) b Woakes. RPS need 6 off 8
23:14 hrs IST: Great over from Umesh. Just two runs off it. Finishes with figures of 1/23. RPS are 8 off 12.
23:09 hrs IST: SIX! Tripathi gets to 91. RPS need 10 off 18
23:05 hrs IST: Seems Dhoni-Tripathi have made up their mind to finish it in singles. RPS need 17 off 24.
23:01 hrs IST: Just three runs off Kuldeep's third over. RPS need 22 off 30.
22:57 hrs IST: Dhoni comes in at no. 6
22:55 hrs IST: WICKET! Stokes c & b Narine 14(15). The damage has already been done.
22:52 hrs IST: This has to be one of the best innings this season. Tripathi deserves a hundred here. RPS need 26 off 42.
22:49 hrs IST: Successive sixes from Tripathi. Easy pickings. RPS well on course.
22:44 hrs IST: Five runs off Kuldeep's first. RPS need 55 off 54.
22:41 hrs IST: Three runs off the next five balls. RPS need 60 off 60. Tripathi 54*, Stokes 7*
22:38 hrs IST: FOUR! Length delivery from Narine, Stokes gets down on one knee and reverse sweeps it to deep backward point boundary.
22:37 hrs IST: Narine again.
22:36 hrs IST: Another good over from Woakes. Just a run off it. RPS need 67 off 66.
22:33 hrs IST: OUT! Tiwary b Woakes 8(9).
22:30 hrs IST: FOUR! And that's fifty for Tripathi. His 2nd in IPL. RPS need 68 off 72.
22:28 hrs IST: With Dhoni, Stokes and Christian still to come, it should be an easy chase for RPS.
22:26 hrs IST: Narine into the attack.
22:25 hrs IST: Tidy over from Woakes. Just three runs off it. RPS need 79 off 78.
22:22 hrs IST: RPS are 74/2 after 6 overs. Tripathi 47*, Tiwary 0*
22:20 hrs IST: SIX and a FOUR from Tripathi. The best part about his innings is the fact that he has got the better of the best bowler of the opposition - Coulter-Nile. And with this, half the job is all but done.
22:16 hrs IST: WICKET! Smith b Woakes 9(9). RPS are 59/2 after 5 overs. Tripathi 33*
22:13 hrs IST: SIX! Stand and deliver. Overpitched delivery from Woakes, Smith presents the full face of the bat and smashes it over long-on.
22:11 hrs IST: FOUR! 4th boundary for Tripathi. Moves to 28 in no time. RPS are 47/1 after 4 overs.
22:09 hrs IST: SIX! Short delivery from Umesh, Tripathi gets into position early and pulls it over deep fine-leg boundary.
22:06 hrs IST: Consecutive boundaries now for Tripathi. He has been excellent this season. RPS are 30/1 after 3 overs.
22:04 hrs IST: SIX! Length ball from Coulter-Nile, Tripathi dances down the track and hits it well over cover.
22:00 hrs IST: WICKET! And Rahane's lean patch continues. Umesh gets his first. Do RPS need a change in their opening combination?
21:58 hrs IST: Umesh Yadav from the other end.
21:57 hrs IST: Dot ball to finish off. RPS are 7/0 after first over.
21:55 hrs IST: FOUR! Rahane off the mark. Gets an outside edge and it runs away past the first slip.
21:54 hrs IST: Rahane to take strike. Coulter-Nile to bowl the first over for KKR.
21:53 hrs IST: Welcome back!
21:39 hrs IST: And that's it. KKR finish on 155/8. Brilliant bowling performance from RPS. Shouldn't be a difficult target for them. We'll be back in a few minutes time.
21:36 hrs IST: WICKET! First of the night for Stokes. Gets rid of Coulter-Nile 6(5).
21:34 hrs IST: Stokes to bowl the final six balls.
21:33 hrs IST: Costly over from Unadkat. 21 runs off it. He ends with figures of 2/28. KKR are 151/7 after 19 overs.
21:30 hrs IST: SIX! Slower delivery from Unadkat and Suryakumar sweeps it over deep fine-leg boundary.
21:29 hrs IST: SK Yadav is in some form. Consecutive boundaries to start the over. KKR need more of these.
21:28 hrs IST: Unadkat to bowl the penultimate over.
21:26 hrs IST: KKR are 130/7 after 18 overs. Another 20-30 odd runs would be very useful for them.
21:23 hrs IST: WICKET! Woakes run out (Smith) 1(3).
21:19 hrs IST: Magnificent over from Unadkat. Wicket and just a run off it. KKR are 120/6 after 17 overs.
21:15 hrs IST: WICKET! de Grandhomme c Sundar b Unadkat 36(19).
21:11 hrs IST: Tahir finishes with figures of 1/36. KKR are 119/5 after 16 overs. Strategic time-out.
21:06 hrs IST: OUT! And just when a partnership was building, RPS strike. Christian removes Pandey 37(32). The hosts in all sorts of trouble now.
21:04 hrs IST: KKR are 103/4 after 14 overs. Pandey 37*, de Grandhomme 23*
21:00 hrs IST: FOUR! Full-toss from Stokes, outside off, de Grandhomme times it well through extra cover.
20:57 hrs IST: FOUR! Back of a length delivery from Christian, Pandey uses the pace and works it past the fielder at short third-man.
20:54 hrs IST: Consecutive sixes for de Grandhomme. Looks in good form. KKR are 89/4 after 12 overs. Can they get past 160?
20:52 hrs IST: Three singles off the last 3 balls. KKR are 74/4 after 11 overs.
20:49 hrs IST: Three boundaries in a row for KKR. Just what they need at this stage.
20:47 hrs IST: Excellent over from Tahir. Four runs and a wicket. KKR are 59/4 after 10 overs. Pandey 14*, de Grandhomme 2*
20:45 hrs IST: Colin de Grandhomme is the next man in.
20:44 hrs IST: WICKET! And the man with the golden arm - Imran Tahir - strikes. Pathan goes for 4(9).
20:41 hrs IST: Another excellent over from Shardul. Giving no room to both Pandey and Pathan to free their arms. KKR are 55/3 after 9 overs. It's time-out.
20:38 hrs IST: Dot ball to finish off. KKR are 52/3 after 8 overs.
20:36 hrs IST: SIX! Tossed up, Pandey comes forward and launches it into deep mid-wicket stands.
20:34 hrs IST: Imran Tahir now. He is the second highest wicket-taker currently this season (with 16 scalps from 11 games).
20:33 hrs IST: Decent over from the Mumbaikar. Just four runs off it. KKR are 44/3 after 7 overs.
20:29 hrs IST: Shardul Thakur comes into the attack.
20:28 hrs IST: OUT! Sundar strikes again. This time, he gets the 'Big Fish' Gambhir 24(19). KKR are 41/3 after 6 overs.
20:26 hrs IST: SIX! Flighted delivery from Sundar, Gambhir steps out and creams it over cover for a maximum.
20:24 hrs IST: Dot ball. KKR are 27/2 after 5 overs. Gambhir 12*, Pandey 0*
STAT ATTACK - Jackson is the 9th overall and first KKR batsman to get out hit-wicket in IPL.
20:22 hrs IST: Consecutive boundaries for Gambhir. The skipper holds the key now.
20:20 hrs IST: WICKET! Unlucky! Sheldon Jackson is out hit wicket 10(9). Looked in decent touch. KKR 19/2 after 4 overs.
20:18 hrs IST: FOUR! Jackson comes down the track and lofts it to long-on boundary.
20:16 hrs IST: Offie Washington Sundar comes in as the second change.
20:15 hrs IST: Unadkat using his variations too perfection. Just two singles off the next four balls. KKR are 14/1 after 3 overs.
20:12 hrs IST: FOUR! Short and wide from Unadkat and Jackson cuts it past the fielder at backward point for his first boundary.
20:11 hrs IST: Unadkat to continue.
20:10 hrs IST: Single off the last delivery from Jackson. KKR are 8/1 after 2 overs.
20:07 hrs IST: Four leg byes. Straying down leg, Gambhir tucks it off his thigh to fine leg boundary.
20:06 hrs IST: Ben Stokes now - from over the wicket.
20:05 hrs IST: WICKET! Unadkat strikes. Narine departs for a duck. Excellent start from RPS. KKR 0/1 after the first over.
20:03 hrs IST: Two slower deliveries from the left-arm pacer and both kept low. Is this the sign of things to come?
20:01 hrs IST: Some movement for Unadkat early on.
19:59 hrs IST: Live action. Gambhir and Narine to open. Unadkat to start the proceedings for RPS.
19: 55 hrs IST: Smith needs 24 runs to become the 13th Australian and 99th batsman overall to score 3000 runs in T20s.
19:47 hrs IST: Nathan Counter-Nile, who has 99 wickets at 22.84 in 79 innings of 81 matches, needs just one wicket to become 13th Australian and 119th bowler overall to complete a century of wickets in Twenty-20 cricket.
19:40 hrs IST: This is what Joe Root, England's newly appointed Test captain, has to say about Ben Stokes' performance in the current IPL season.
19:35 hrs IST: So Steve Smith goes with an unchanged side. As for the hosts, a forced change. Robin Uthappa out with a niggle. Suryakumar Yadav replaces him. Sheldon Jackson to keep wickets.
19:33 hrs IST: Here are the playing XI of both teams:
RPS: Ajinkya Rahane, Rahul Tripathi, Steven Smith(c), Manoj Tiwary, Ben Stokes, MS Dhoni(wk), Daniel Christian, Washington Sundar, Jaydev Unadkat, Shardul Thakur, Imran Tahir
KKR: Sunil Narine, Gautam Gambhir(c), Manish Pandey, Yusuf Pathan, Suryakumar Yadav, Sheldon Jackson(wk), Colin de Grandhomme, Chris Woakes, Nathan Coulter-Nile, Kuldeep Yadav, Umesh Yadav
19:31 hrs IST: Rising Pune Superiant have won the toss and have chosen to field.
STAT ATTACK - KKR have won 12 matches in a row chasing a target at the Eden Gardens. Simply Brilliant!
19:26 hrs IST: For all those who missed yesterday's action, Corey Anderson's blistering 41 helped Delhi Daredevils get the better of Sunrisers Hyderabad by six wickets. Karun Nair's men have three wins from nine games and will have to win their remaining six to seal a playoff spot.
19:22 hrs IST: Toss in a short while.
19:18 hrs IST: Here is what the teams need to do to qualify for IPL 2017 playoffs - the thrilling endgame.
19:14 hrs IST: Hello and welcome to HT's live coverage of IPL 2017 game between Kolkata Knight Riders and Rising Pune Supergiant.
Led by Gautam Gambhir, KKR have won seven of their ten games this season, and are one of the prime contenders for the title. However, after a poor display with the ball in their last game against Sunrisers Hyderabad (SRH), they will be keen to make a winning comeback on Wednesday. (IPL 2017 SCHEDULE)
KKR will be boosted by their 100 % win record against RPS, having won all their three previous encounters against the Pune outfit.
Kolkata Knight Riders' Australian paceman Nathan Coulter-Nile, meanwhile, is one wicket short of becoming the 13th Australian and 119th bowler overall to complete a century of wickets in T20 cricket.
Rising Pune Supergiant skipper Steve Smith too is nearing a landmark of his own. He needs 24 runs to become the 13th Australian and 99th batsman overall to score 3000 runs in T20 cricket.
Smith has made 2976 runs at 30.06 and a strike rate of 127.07 with one hundred and 10 fifties in 130 innings of 149 matches in Twenty-20 cricket so far.
Close