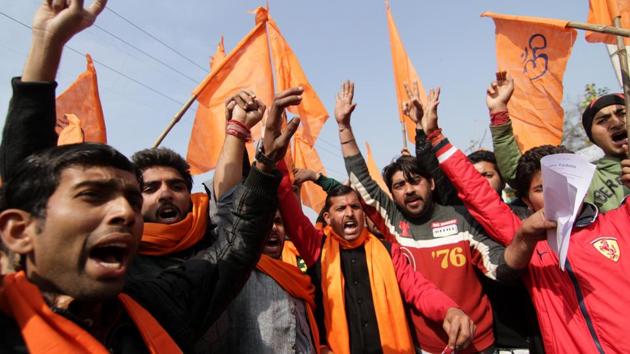 Udaipur, Rajsamand tense week after Muslim labourer's brutal murder
Prohibitory orders have been imposed and mobile and internet services suspended. No protest rallies have been permitted.
UPDATED ON DEC 14, 2017 11:22 AM IST
Authorities in Rajasthan's Udaipur and Rajsamand clamped prohibitory orders and banned internet services as several Hindu outfits in Udaipur rallied together demanding action against those purportedly shouting communal slogans in a video that is doing the rounds online, a week after a Muslim migrant labourer was brutally killed for alleged love jihad.
Section 144 was imposed in Rajsamand and neighbouring Udaipur districts from Wednesday night while internet services were suspended from Wednesday midnight.
IG Udaipur range Anand Shrivastava said prohibitory orders will remain in force for a couple of days depending on the situation. "Internet services have been suspended till midnight Thursday but will be reviewed and the ban extended, if required."
The Muslim labourer Afrazul was hacked to death and his body set of fire last week by Shambhu Nath Regar (37), who is now in police custody.
A video posted on social media purportedly showed Muslims in a rally at Chetak Circle in Udaipur shouting slogans against Hindu organisations and demanding death for Regar.
Shrivastava said the video has been sent to the forensic science laboratory for investigation.
After seeing the video, around 15 Hindu outfits, led by Bajrang Dal, called a demonstration on Friday, demanding action against those shouting slogans in the video.
"We have called a protest on December 15 by Hindu organizations if no action is taken against those who shouted inflammatory slogans against Hindu organisations," said Indrajit Singh, state chief of the Bajrang Dal.
Meanwhile, police detained Thakur Updesh Rana, a self-styled activist, in Bagru on the outskirts of Jaipur, for disturbing public peace, according to Bagru SHO, Rajendra Singh Shekhawat.
Rana had posted a video online on Tuesday calling a rally in Udaipur on Thursday and exhorting Hindus to participate in large numbers. He had also showed the Chetak Circle video.
In another video posted on Wednesday, he says he is not going to Udaipur to meet Regar but his family, and dared the administration to arrest him.
Indrajit Singh of Bajrang Dal said they did not support Rana. "He is only a social media hero. He has no base or support on the ground. We have nothing to do with him. He was coming to spoil the situation and create tension here," Singh told HT.
Udaipur superintendent of police Rajendra Prasad Goyal promised action after he met representatives of the Hindu organisations on Wednesday.
Goyal told HT that the police team at Chetak Circle did not report any sloganeering by Muslims.
Three people — one from Rajsamand and two from Udaipur — have been arrested in the past few days for posting inflammatory messages online following the Muslim labourer's murder.
The Rajsamand police have also frozen a bank account of Regar's wife that was being shared online asking people to contribute money for Regar and his family.
Close