Beauty tips: Here's how to know your skincare essential according to your skin type
Updated on Jun 27, 2022 07:39 PM IST
Naturally glowing skin or a dull, pale face - both largely depend on ingredients whether they bring out the most natural, beautiful look or mess up your chemical balancing, lead to pale coloured face, breakouts etc. Here's how to know your skincare essential according to your skin type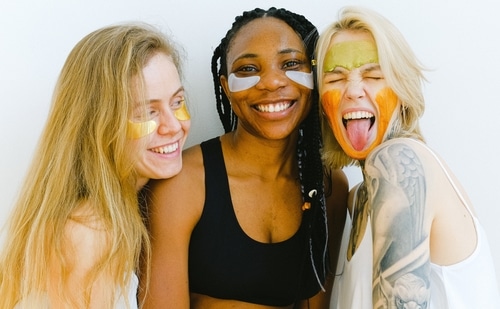 It is no secret that one must always do a patch test before using any skin ingredient and if you have a skin problem such as severe acne or dry skin or sensitive skin, then consult a dermatologist as early as possible but it is also true that naturally glowing skin or a dull, pale face - both largely depends on what goes on and inside your skin. This is because some ingredients are naturally infused to bring out the most natural, beautiful look while others can mess up your chemical balancing, leading to pale coloured face, breakouts and much more.
If you are wondering how does one decide what's good and what isn't, we got your beauty and skincare woes sorted with tips from experts. In an interview with HT Lifestyle, Dr Shruti Marwah- MBBS, MS MCH, The Handa Aesthetics, and Plastic Surgery, shared, "Knowing your skin type is extremely important to take its complete care. It gives an idea about the environment suitable for it, skincare products to use to maintain the glow and also the bad effects on it due to one or other reasons. One wrong product can cause serious skin problems. Choosing the right product is possible only if you know your skin type better and that will help you in preventing skin from harmful effects and reactions."
She highlighted, "Usually, skin types are divided into five categories such as oily, dry, normal, combination and sensitive. You can know the oily skin by recognising the fact that it produces excess sebum that causes the skin to appear shiny. Dull and rough skin are categorised as dry skin. It is a tight and less elastic type of skin. Normal skin is a balanced one, neither dry nor oily. As the name suggests, combination skin is a mix of dry and oily types. Sensitive skin is also a mix of other types. For instance, someone's skin might be oily and sensitive, dry and sensitive. You must try to know your skin type to avoid health-related complications and good care of overall health."
Elaborating upon the same, Dermatologist Dr Geetika Srivastava, Founder of Infuennz Clinic, said, "A normal skin feels "NORMAL". These are the blessed souls who can maintain the ideal pH balance and moisture content of the skin owing to a healthy skin barrier. They neither have heavy dry patches of skin nor excessively greasy skin. For me, a combination skin (which is a skin with oily T zone and a dry C zone) essentially behaves like a normal skin when it comes to skin care products. Oily skin is the one that feels oily all the time. They are prone to acne , not that people with dry skin cannot have acne. They have open pores too. However, oily skin ages gracefully with less visible signs of ageing and has a natural shean and glow on the face."
She added, "Dry skin, as the name suggests, is dry all around. It usually does not have breakouts but that is not absolute. Due to less natural moisturising factors(NMFs), the skin is prone to fine lines and wrinkles. Dry skin also feels dull than usual. A sensitive skin type could be an outcome of bad skin care management of dry skin. I often come across patients with dry skin rubbing scrubs on their face or using harsh chemicals. This can strip out the natural oil off your face causing sensitivity. A genetically predisposed sensitive skin usually has pro-inflammatory cytokines. This can make skin reactive to any kind of skin care product."
So what skin care products one should use for different skin types? Dr Geetika Srivastava advised -
• Normal skin/combination skin: The blessed souls. All they have to do is maintain their skin. So don't use very harsh chemicals. Use a facewash, moisturiser and sunscreen and you are golden.
• Oily skin: They should use a facewash containing AHA/BHA for a better oil control. This also decreases comedones count in the long run. This is especially helpful as oily skin is usually acne prone too. They should also opt for mattifying/gel based moisturisers that are non-comedogenic. Those troubled with open pores can also use pore-refiner creams to camouflage their pores. They should use a sunscreen with silicone in it. These sunscreens do not add to already shiny skin that these people have. In terms of actives, salicylic acid and retinol suits this skin type.
• Dry skin: MOISTURISATION, MOISTURISATION AND MOISTURISATION. Hydration is the key here. Any product they should use should have an element of hydration. They should use moisture based-creamy facewashes. They can also opt for cleansers as well. Toners are a big no as the alcohol content in the toners can further dry out the skin. Use tons of moisturisers daily. Hyaluronic acid containing moisturisers are their best friend. They can even opt for Vitamin C as it will provide a natural glow which is lagging in dry skin type. Say NO to retinols, AHA and BHAs.
• Sensitive skin: They should use cleansers instead of facewashes as cleansers seem to be more gentle to their skin. Moisturisation is a must for them too. Can use green tinted moisturiser as a "cover-up" for redness. Say No to toners, salicylic acid, anti-acne preparations, AHAs, BHAs and retinols.
• Acne prone skin: The skin care is similar to an oily skin type except they should use only non-comedogenic products. So look for labels like "oil-free", "acne-free", "non-greasy" etc. Vitamin C is relatively contraindicated as it can sometimes flare breakouts in acne prone skin.
Bringing her expertise to the same, Stuti Kothari, Founder of WishCare, advised, "Skin care is one of the most important ways to take care of your skin and pamper it with love and nourishment. However, your skin care regimen depends entirely on your skin type. Certain products might work wonders for oily skin and might not show results on dry or combination skin. The golden rule is Cleaning, Toning, Treating and Moisturizing (CTTM) followed by applying sunscreen. CTM has evolved to CTTM and treating with serum has based on your skin type is very important. Contrary to what people usually believe skin care is not only about daytime routine, night care regime is an equally important step as the skin finally gets the chance to repair, rejuvenate, and undo all the daytime damage. However, in all scenarios, choosing the right products with the clean and safe ingredients is extremely necessary to avoid any long term damage to the skin. Skin problems like deep wrinkles, hyperpigmentation, acne scarring, or other skin issues can be prevented with a daily and consistent skin care routine"
She further suggested, "To choose your skin care essentials, the first step is to assess your skin type and then look out for products that are appropriate. For instance, for oily skin, mild water-based cleansers with ingredients like Green Tea, Salicylic Acid , Alcohol-free and AHA based toners, moisturizers with Niacinamide, and gel-based sunscreens help treat acne and balance oil production in the skin. For dry skin, look for products that contain Hyaluronic Acid & Glycerine. These ingredients provide hydration and moisturize the skin thereby fighting dryness. Serums with lightweight formulations and with ingredients like Turmeric extracts, Vitamin C, Niacinamide, CICA should be used daily. Anti-aging ingredients like Retinol above 1% can be used bi-weekly and those with sensitive skin type should prefer skin care products that have aloe vera, CICA extracts or oatmeal in them to soothe the skin and repair the skin barrier. Choosing the right sunscreen for protection is equally essential, Gel sunscreens which are non-comedogenic suit all skin types."