Soha Ali Khan shares snippets from fitness diaries, slays goals again
Dec 12, 2022 10:51 AM IST
With a range of dumbbell workouts, Soha shared a short snippet from her fitness routine and gave us major workout goals, yet again.
Soha Ali Khan is a fitness enthusiast. The actor keeps sharing snippets from her fitness diaries on her Instagram profile on a regular basis. The actor hardly misses a from her fitness routine, and her videos are replete with all kinds of motivations and fitness inspo for us to refer to. The actor can literally workout anytime and anywhere. Soha's Instagram profile is replete with pictures and videos from her living room which is her fitness arena for every day. The actor loves to use parts of her home for her fitness routine. From turning the staircase of her house into her squats zone to using her living room as her gym for her daily fitness routine, Soha is an inspiration for her Instagram family.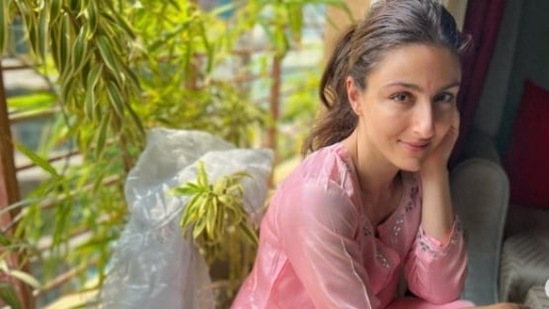 ALSO READ: Soha Ali Khan is 'just hanging around' on her back workout day
Soha, a day back, shared a short video of herself working out in animal mode. In the video, Soha can be seen taking up multiple exercises with dumbbell as her prop. She can be seen starting her day with an intense routine of dumbbell workout. In the later part of the video, Soha can be seen performing squats with dumbbells in her one hand. With her legs up against a wall behind her, Soha can also be seen holding her upper body strong in a plank position, and performing a variation with her legs, by bending her knees. With the video, Soha also shared her fitness mantra for the day - "Know when to say no! And when to say yes it's time to work out." Take a look at her routine here:
Working out with dumbbells come with its own set of health benefits. It helps in lowering the risk of cardiovascular diseases, heart attacks and strokes. It also helps in burning mega calories, controlling the body weight and building muscle mass. Dumbbell workout, a form of strength training, helps in inducing better sleep as well. Performing squats with dumbbells help in strengthening the lower body and the core muscles. It also helps in stabilising the muscles around the knees and the ankles. It also helps in building muscles in the lower body.