Tips for parents to stimulate child's development during early years
Jun 06, 2022 06:13 PM IST
Children's brains develop more rapidly in the first five years of their lives, which also influences their physical and emotional growth. Since many parents seek advice from paediatricians on how they can help with their child's development through their early years, check out these tips by doctors
In the first five years of a child's life, interactions and relationships stimulate their overall physical and mental development and as a matter of fact, their minds foster relationships quicker in the initial five years than at any other time in their lives. This is the point at which the foundations for learning, wellbeing and behaviour are set for them, making it a crucial stage to help develop a child's social, emotional, behavioural, thinking and communication abilities.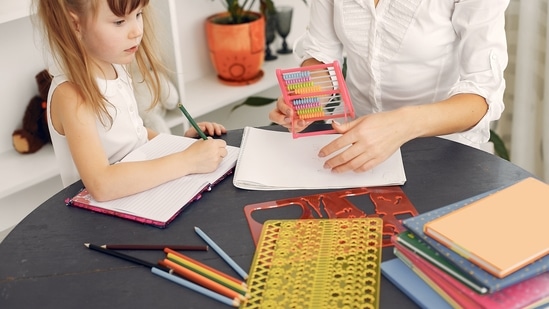 Early years of life (0 to 5 years) are the most essential years of development in a child's life since maximum development of brain takes place during these early years hence, child experts insist that it is important to give them a stimulatory environment so they can reach their maximum genetic potential and also influences their physical and emotional growth. Since many parents seek advice from their paediatricians on how they can help with their child's development through their early years, we got a few doctors on board to share the secret with us.
In an interview with HT Lifestyle, Dr Shalini Prasad, MBBS, DCH, DNB – PEDIA and a senior paediatrician on HealthPlix platform suggested that the most ideal way is to effectively engage your child through regular activities like playing, reading and being there when he/she feels pressured. She listed a few ideas to encourage child's optimum growth during early years:
1. Playing games like peek-a-boo and building blocks to help the child in bring out their fun side
2. Reading is a wonderful way to promote early learning skills
3. Physical comfort for babies, hold and cuddle your baby let them know you are there to comfort them when they feel pressure or stress.
4. Music/songs - Let the child listen to music and their favourite songs it will help develop early learning skills
5. Dance/role-play engaging your children in activities like dance can help relieve stress, play their favourite song, and let them dance their heart out and role-playing for children also develops peer relation.
Bringing her expertise to the same, Dr Puja Kapoor, Paediatric Neurologist and Co-Founder of Continua Kids, added two recommendations to the list of tips to stimulate child's development. These include:
1. Stimulate all the sense organs - We perceive the environment through our senses organs, like through eyes we see, through ears we process the auditory stimulus, through skin we get our tactile stimulus etc. We need to stimulate these sense organs through talking to them (both visual and auditory sense organs are stimulated), making them play on grass, clay etc. (both vestibular and tactile sense organs are stimulated). So the child should not be cooped up in a corner and made to play on its own. She/ he needs to be exposed to different environment where his/her reciprocity skills develop.
2. No screentime - Child should not be exposed to screentime till 2 -3 years of age. It is proven that exposure of screen in a child before 2 years can lead to speech delay, decrease in potential Intelligence, and temper tantrums. As screentime is a one way communication and the child get no chance to reciprocate, exposure to screen leads to lack of stimulation of expression leading to speech delay.
Since it is important for parents to engage with their kids in an effective manner, Dr Satrughna Sinha, MBBS, MD - PEDIA advised:
1. Start calling the child by their name
2. Encourage the child to stand on by holding on to the furniture
3. Showing picture books and talking to baby promotes languages development
4. Family members should participate in child's play
5. Encourage the child to scribble by drawing a few lines